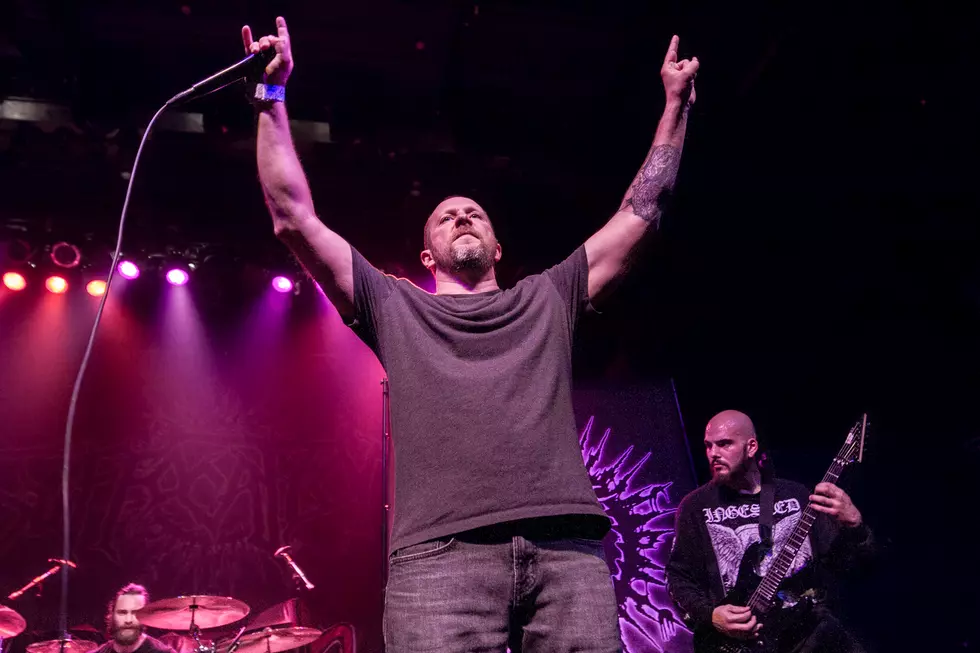 Suffocation Announce Final Tour With Vocalist Frank Mullen
Johnny Perilla, Loudwire
New York death metal veterans Suffocation will launch their final tour with original vocalist Frank Mullen on October 21 in Wantagh, New York. Dates run through November 17 in Reading, Pennsylvania. The Death Chopping North America Farewell Frank Tour 2018 will also feature Cattle Decapitation, Krisiun and Soreption.
"Hello my friends - so this is it, after 30 years of being a part of this amazing band, which I have had the opportunity to tour the world and bring our music to the sickest fans on the planet, it has come to this time," wrote Mullen in a statement. "I bid you a farewell."
The vocalist reminisced over his years with the band and offered a list of thanks. "I would like to thank first and foremost, all of my brothers in Suffocation who I have shared the stage with over the years," he wrote. "We have had the sickest of times on the road, and recorded some of the sickest fucking music the planet has ever heard. Secondly I want to thank ALL OUR FANS AND FRIENDS WORLDWIDE, who have helped make this journey possible by supporting us unconditionally. None of this would have been possible without you. So in closing, I will miss you all. This has been the craziest ride of my life and I would not change a thing! Until we meet up again take care, stay brutal and I look forward to the next chapter."
"But before I take my final step off the stage, to give back to all of you who have supported me and the boys," Mullen concluded. "I hope to see you all for one last ride across North America. Stay brutal."
Tickets for The Death Chopping tour go on sale on Friday (Aug. 10) at this location.
Suffocation 2018 Tour Dates
Oct. 21 - Wantagh, N.Y. @ Mulcahy's Concert Hall
Oct. 22 - Cambridge, Mass. @ @ Middle East Down
Oct. 23 - Montreal, Quebec @ Les Foufounes Electriques
Oct. 24 - Toronto, Ontario @ Lee's Place
Oct. 25 - Detroit, Mich. @ Magic Stick
Oct. 26 - Joliet, Ill. @ The Forge
Oct. 27 - St. Paul, Minn. @ Amsterdam Bar and Grill
Oct. 29 - Kansas City, Mo. @ Riot Room
Oct. 30 - Denver, Colo. @ Gothic Theatre
Oct. 31 - Salt Lake City, Utah @ Metro Music Hall
Nov. 01 - Jerome, Idaho @ Diamondz Event Center
Nov. 02 - Seattle, Wash. @ Club Sur Rocks
Nov. 03 - Portland, Ore. @ Dante's
Nov. 04 - Oakland, Calif. @ Oakland Metro
Nov. 05 - West Hollywood, Calif. @ Whisky A Go Go **
Nov. 06 - San Diego, Calif. @ Brick By Brick **
Nov. 07 - Mesa, Ariz. @ Club Red
Nov. 09 - San Antonio, Texas @ Paper Tiger
Nov. 10 - Dallas, Texas @ Gas Monkey Bar 'N Grill
Nov. 11 - Houston, Texas @ White Oak Music Hall
Nov. 13 - Atlanta, Ga. @ The Masquerade
Nov. 14 - Charlotte, N.C. @ The Underground
Nov. 15 - Baltimore, Md. @ Ottobar
Nov. 16 - New York, N.Y. @ Gramercy Theatre
Nov. 17 - Reading, Penn. @ Reverb
**  No Cattle Decapitation
Where Does Frank Mullen Rank Among the Top 25 Extreme Metal Vocalists?
Loudwire Podcast #22 - Suffocation