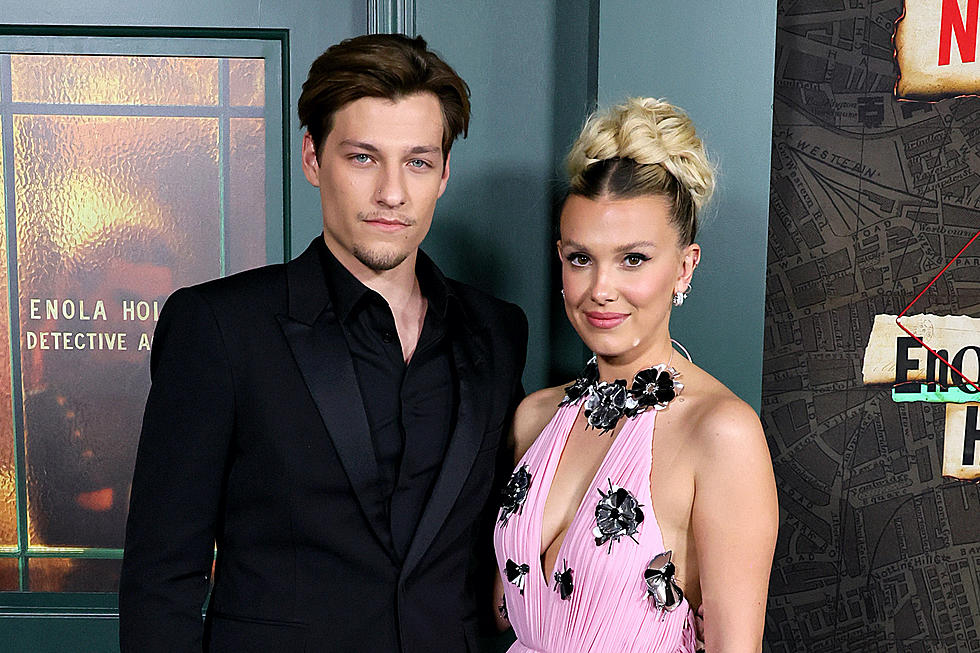 'Stranger Things' Star Millie Bobby Brown Appears to Be Engaged to Jake Bongiovi, Bon Jovi's Son
Theo Wargo, Getty Images
Stranger Things star Millie Bobby Brown is seemingly engaged to Jake Bongiovi, the actor son of rock singer and Bon Jovi bandleader Jon Bon Jovi, thereby deigning her betrothed to rock royalty, as one could guess from a new report.
According to People, the actress best known as the Stranger Things character Eleven, 19, and Jake, 20, apparently announced the happy news on Instagram this week.
That's because Millie shared a photo of herself with a diamond ring on her left hand as Jake embraced her on the beach, the celebrity news mag reported. (See the pic below.)
"I've loved you three summers now, honey, I want 'em all," Millie wrote alongside the romantic photo in her post. The line is a lyric from pop star Taylor Swift's 2019 title track, "Lover."
Jake also shared a photo of the moment, alongside a separate shot of him and Millie, writing simply, "Forever," followed by a heart emoji.
Millie and Jake have been dating each other since 2021. (Jon Bon Jovi's real surname is Bongiovi.) Coincidentally, it's not the first time that Stranger Things and rock music have intertwined.
Metallica on Stranger Things
Last year, a Metallica song in Stranger Things gave the metal band renewed mainstream visibility. To end Season 4, the character Eddie Munson plays "Master of Puppets" on guitar. Metallica subsequently welcomed new fans brought by the show before some seemingly attempted to "cancel" the band.
READ MORE: Comedian Marc Maron Doesn't Like Tool
Tye Trujillo, Metallica bassist Robert Trujillo's son, helped with retrofitting the 1987 Master of Puppets title track to Stranger Things. The scene was written by series creators the Duffer Brothers with Metallica in mind. Metallica later duetted the part on TikTok.
Hey! Sign up for Loudwire's newsletter and get the Loudwire app to stay up on the latest rock and metal news.
Watch: Stranger Things' Eddie Munson Plays Metallica Song in Season 4 Finale
Rock Star Kids Then and Now
Photos of famous children of musicians. What are they doing now?