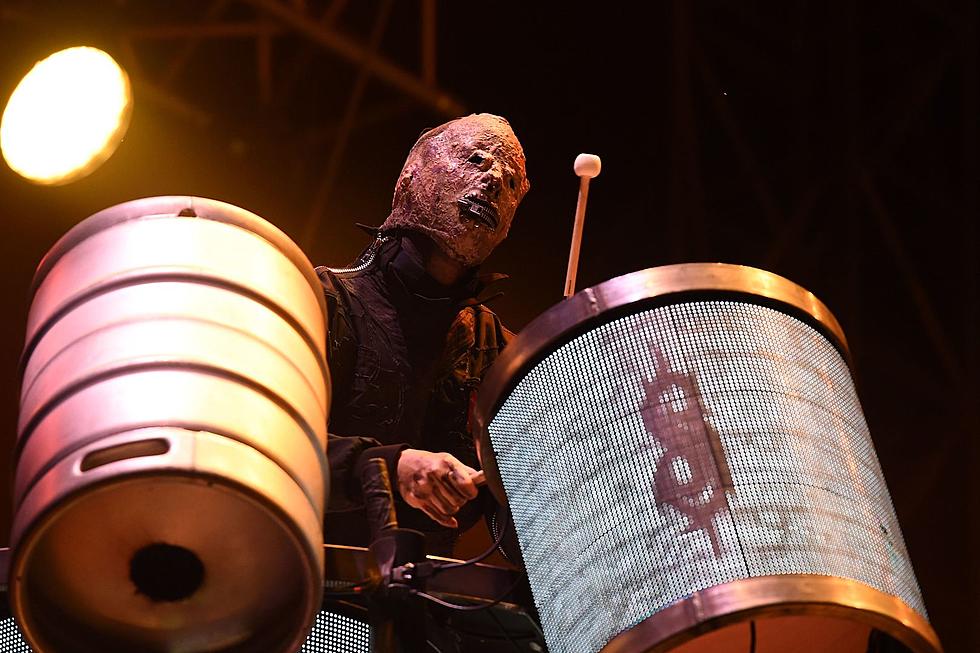 Slipknot's Jim Root: 'Tortilla Man' Is a 'World-Class Pianist'
HERBERT P. OCZERET, Getty Images
It's been three months since the newest member of Slipknot was introduced to the world in the "Unsainted" video, and the band has done an incredible job of keeping his identity a secret. Guitarist Jim Root has offered another hint about "Tortilla Man" — he's a "world-class pianist."
"He's a character, man. I didn't really know him very well before he started playing with us," Root told The Art And Span Show, admitting that everyone is eventually going to figure out who's behind the tortilla. "But he's a hell of a musician, man. The guy is a world-class pianist, he's a great percussionist, he is schooled in music. He's not just a garage musician who came up and learned on his own. He obviously had natural ability, but he took it to another level and actually got a degree in music."
The guitarist adds that the mysterious member is "out of his mind," matching the profound energy and recklessness of the rest of the band. "I'll be standing there playing and all of a sudden I'll hear this thump next to me, and he'll have jumped down from his drum set. He's, like, next to me. And I'm, like, 'You're insane, dude. Your knees are gonna fucking just be done.'"
Listen to the full interview below.
The tortilla happened to stumble upon the perfect time to land the gig with Slipknot, as their new album We Are Not Your Kind debuted at No. 1 in the U.S., and holds the top spot of the charts in several other countries as well.
Slipknot's Jim Root Speaks to the Art and Span Show
The Evolution of Slipknot's Terrifying Masks Throughout the Years
The Evolution of Slipknot's Masks