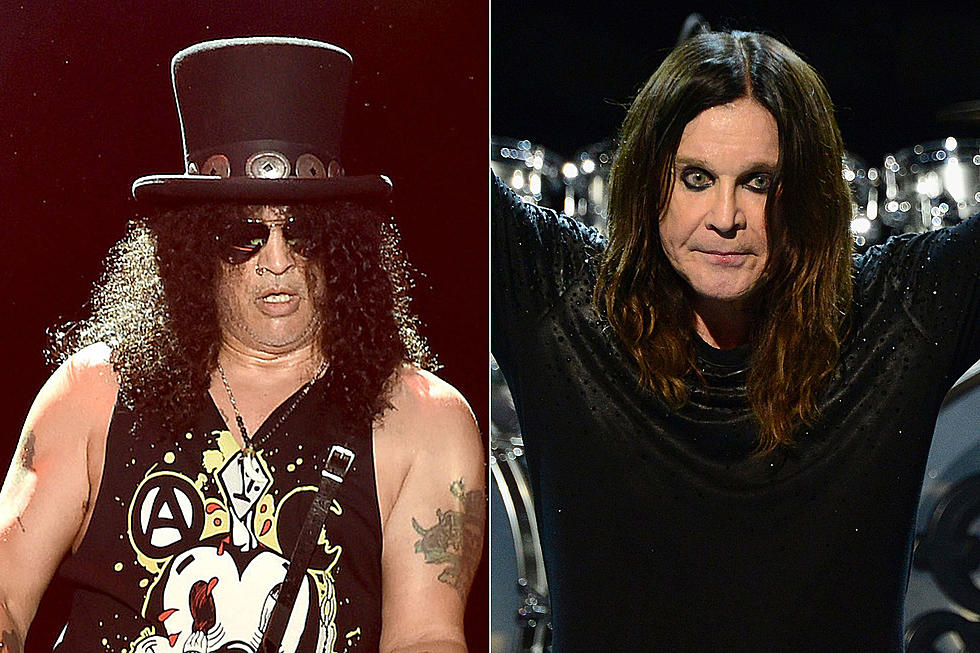 Slash, Ozzy Osbourne + More Team Up for Anti-Bullying Documentary + Song
Kevin Winter / Frazer Harrison, Getty Images
Slash, Ozzy Osborne and a slew of Hollywood stars have teamed up for the anti-bullying documentary #NoJoke. The film tells the story of Andrew Cole, who attempts to put together a group of his musical idols to help him record a song for victims of bullying.
The documentary follows Andrew Cole, who was bullied as a kid, as he tracks down the ghosts of his past to get to the real issue behind the epidemic. He also goes around North America and the U.K. attempting to find celebrities and experts to join his cause and musicians to perform on his anti-bullying song "Joke." Cole ends up tapping a list of A-list artists for the film including Slash, Ozzy Osbourne, Chad Smith of the Red Hot Chili Peppers, the late Lemmy Kilmister, Steve Vai and Meat Loaf as well as actor and jazz pianist Jeff Goldblum, Patrick Stewart, Jane Lynch and more.
In the trailer below, Cole explains he went to 20 schools and got bullied when he went to a public school. As an adult he wrote the song "to make a difference to people who are being bullied right now." He adds, "The thing is that I'm nobody, so I have to build an army." So he did just that recruiting an amazing list of artists who helped him record the song and who share their sometimes painful experiences with bullying. Watch the film trailer below.
The film is produced by Peabody Award winner and three-time Canadian Screen Award nominee Jason Loftus. He explains, "At the outset no one knew who Andrew was and there was really no reason for them to do so. We're thankful that so many of them cared. Some were affected by bullying–as victims or as bullies themselves–and wanted people to know they're not alone." Loftus adds, "We think it's an ideal time for this conversation, and we thank the experts who participated in this project. We hope it will spark both personal reflection about how we treat each other, and discussion about how we best approach this issue together."
October is National Bullying Prevention Month. "#NoJoke" will be released on VOD on Oct. 22. For more info about the film visit nojokefilm.com.
See Slash in Top 66 Hard Rock + Metal Guitarists of All Time