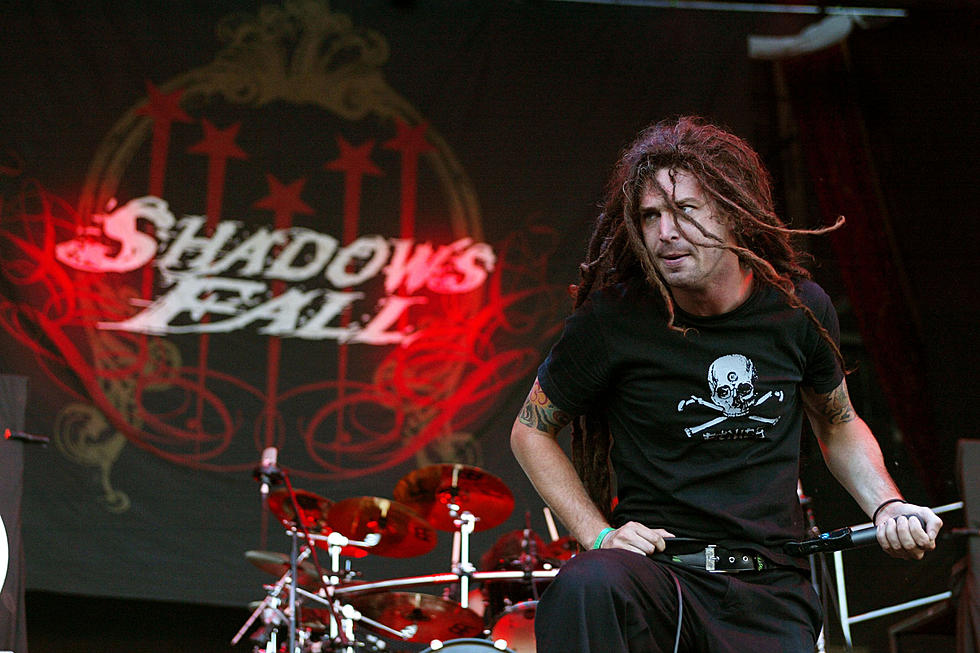 Reunited Shadows Fall Have Been Working on New Music – 'We're Free and Clear'
Karl Walter, Getty Images
Shadows Fall carved out a solid career in the first decade of the 21st Century, but announced plans to take a "future extensive touring" hiatus in 2014. In 2021, the band played a reunion show and have since made a couple of other appearances. Now comes word from singer Brian Fair that the band has started working on their first music in over a decade.
The band last released their Fire From the Sky album in 2012, featuring the single "The Unknown," but Fair says that the beginnings of something new have started for the group recently during a chat with Hatebreed's Jamey Jasta on The Jasta Show (as heard below).
Fair explained (as transcribed by Blabbermouth), "I will finally say there are riffs that are turning into skeletons that might become songs. Now, what happens with them, where they go, we'll see. But once we started jamming [for the recent reunion shows], we were, like, 'What's the point of doing this without writing new riffs?'"
"We had to make sure they were gonna sound like Shadows Fall," added the singer. "We didn't wanna come out of nowhere with something different, out of left field. But so far, they're coming together, man, and I'm stoked on what I'm hearing. So hopefully that'll continue, that'll continue on. But as far as dropping a whole record… Who knows? These days it's different anyway. Shit, we can just drop a few random singles and then see where it goes."
The vocalist continued, "I'm excited that we're writing, that we're doing things. And so far what I've heard has been amazing… I haven't really committed, but we are finally getting our shit together and getting some riffs together."
Given Shadows Fall's long-running hiatus, it's worked to the band's advantage creatively says the singer, while noting that they're currently without a record label.  "We're free and clear," he explained. "We were luckily free and clear for a while, so even our last couple of records were done kind of on our own terms."
As stated, performances have been few since announcing their hiatus in 2014, with their 2021 reunion in Worcester, Massachusetts then leading to appearances at the Blue Ridge Rock Festival and Furnace Fest in the time since. The band is also booked for the 2023 Headbangers Boat Cruise.
When asked about the idea of more extensive touring, Fair revealed, "We're not averse to that. It takes a lot of logistics now, with the rest of my guys being in legendary thrash bands, like Anthrax and Overkill and whatnot. But if we can do it, we would love to. Right now, festivals have been something we can pull off. But I would love to do short tours or even a month-long tour. Or at least some long weekends where we hit each coast or do New England and then Midwest and then a West Coast thing. But we'll see. We're not saying 'no' to anything. We're gonna listen. So we'll see, if things make sense and if we can make it work."
READ MORE: Brian Fair Hopes Shadows Fall Reunion Is Springboard for More
Over the course of their career, Shadows Fall released seven studio albums, with 2004's The War Within being the most commercially successful. Two of their songs - 2006's "What Drives the Weak" and 2008's "Redemption" - were both nominated for the Best Metal Performance Grammy.
Shadows Fall's Brian Fair Guests on The Jasta Show
10 Rock + Metal Tours From 2002 We Wish We Could See Now
Stellar line-ups at the start of the millennium.