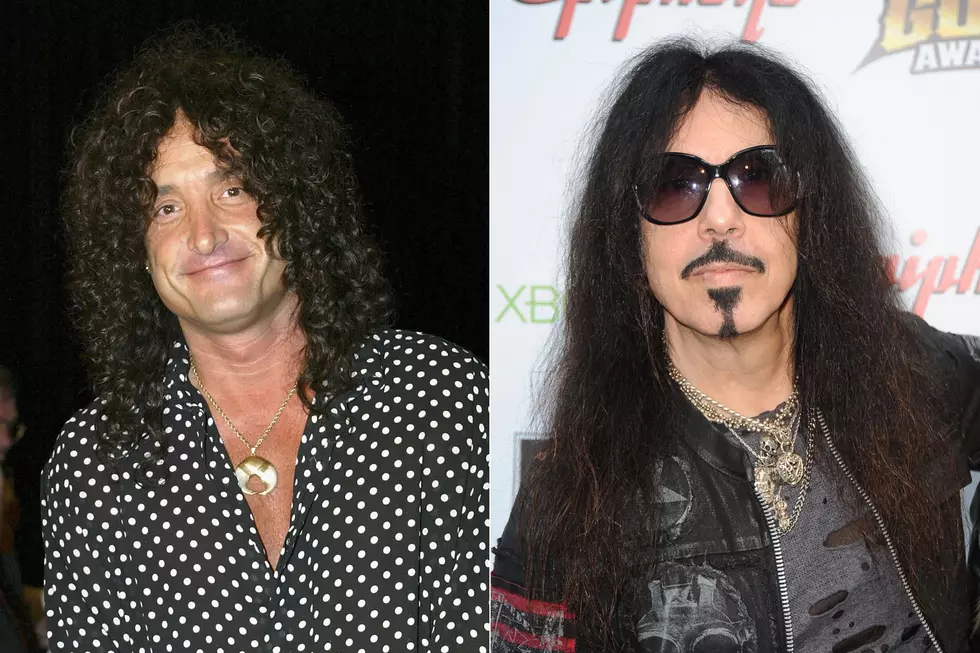 Quiet Riot Share Unreleased Song Featuring Kevin Dubrow + Frankie Banali
Chris Farina / Frazer Harrison, Getty Images
A long lost Quiet Riot song has been found, giving fans a chance to once again enjoy the talents of late band members Kevin Dubrow and Frankie Banali. The track is called "I Can't Hold On," and it was a demo initially recorded in 2003 by Dubrow and Alex Grossi that had long been considered lost until it was rediscovered in 2021.
According to a new video for the song, the track was found on an iPod that was uncovered two years ago, and now it's helping to promote the re-release of Quiet Riot's Rehab: Relapse and Remastered album.
Dubrow, Quiet Riot's charismatic frontman, died in 2007, while drummer Frankie Banali, the band's longest tenured member, died in 2020 after a battle with pancreatic cancer.
The now finished track unites Dubrow and Banali with Grossi and Rudy Sarzo and is available to Quiet Riot fans for the first time, complete with a video put together by Regina Banali that serves as a tribute to the two late members of the band.
"The 'I Can't Hold On' video honestly conveys the reason for Quiet Riot to carry on and Celebrate Frankie's and Kevin's memories and the Quiet Riot legacy," says bassist Rudy Sarzo. "To play bass on 'I Can't Hold On' with Kevin and Frankie 40 years after our Metal Health record sessions along with Alex Grossi is truly a blessing."
"It's so great to finally hear this track the way it was supposed to be done," says Alex Grossi. "I completely forgot about it until it turned up on an old iPod last summer. The way it came to life almost 20 years later is truly special and a perfect tribute to Kevin and Frankie."
"I am now the steward of Frankie's life work and the band, and it is very important to me to protect the Quiet Riot legacy," states Frankie's widow, Regina Banali. "Rehab was a very important recording to both Frankie and Kevin and a significant part of the soundtrack to the film QUIET RIOT: Well Now You're Here, There's No Way Back."
Check out the video below, and you can pick up the Quiet Riot Rehab: Relapse and Remastered set right here.
Meanwhile, you can catch the current lineup of the band, which features Jizzy Pearl on vocals and Johnny Kelly on drums with Sarzo and Grossi, out on tour in 2023. Dates can be found here.
Quiet Riot, "I Can't Hold Back"
Top 80 Hard Rock + Metal Albums of the 1980s