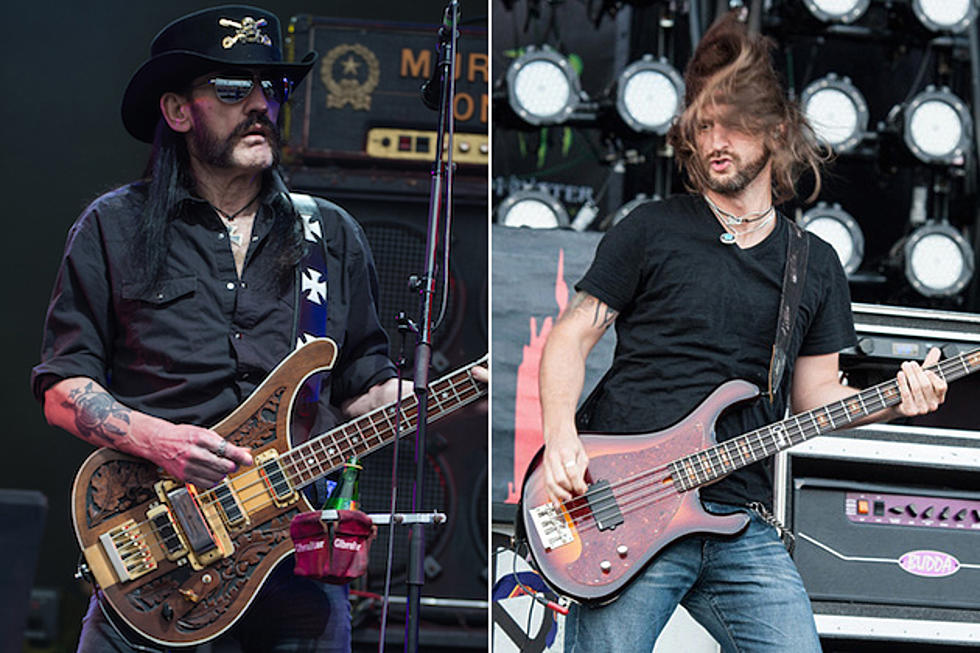 Motorhead Call Out Black Stone Cherry Over Cocaine Story
Ian Gavan, Getty Images / Micah Gummel
Lemmy Kilmister was a noted user of a multitude of intoxicants and it was a seeming rarity for the late Motorhead frontman to be spotted without his traditional Jack and Coke. The other coke, cocaine, however, has been the subject lately as a member of southern rockers Black Stone Cherry claims he was offered the white powder by the Motorhead collective every day on tour. Now, the Motorhead camp has responded, stating these claims are false.
The story bassist Jon Lawhon told Rocksverige was, "The funniest thing from the whole tour was that all of them would offer us whisky and coke every day. Not coke, but cocaine. We were like, 'We can get down with the whisky, but with the cocaine, we're alright.' But it was every day that they would offer it to us and every day we told them and got the same speech every day, 'Can't believe you're in rock and roll and don't do cocaine,' and we were just like, 'We just talked about this yesterday.' (laughs) They just didn't realize they had just said the same thing to us the day before." The story came after being asked if Lawhon had any funny Lemmy stories from their 2009 tour with Motorhead.
As had been reported earlier in the year, drummer Mikkey Dee received strict orders from Lemmy to never take drugs or else he would find himself out of the band. This appears to clear Dee from having ever offered the members of Black Stone Cherry cocaine, as Motorhead's representatives took to Facebook to clear the air, also seeking an apology, seen below.
Black Stone Cherry initially apologized with two comments on the Metalsucks Facebook page. Deferring blame, they stated, "Gotta love how publications take something you say lightly and run with it." Shortly after, the band's Jon Lawhon issued a full statement on the band's Facebook page, explaining the Motorhead crew had offered them the cocaine, not the band members themselves. All posts can be seen below.
Black Stone Cherry's latest album, Kentucky, was released earlier this month and Motorhead are slated to release a live CD/DVD titled Clean Your Clock on May 27. The album was culled from Motorhead's final two shows in Germany in November of 2015.
See Where Motorhead Landed on the Top 80 Hard Rock + Metal Albums of the 1980s
10 Unforgettable Lemmy Kilmister Moments