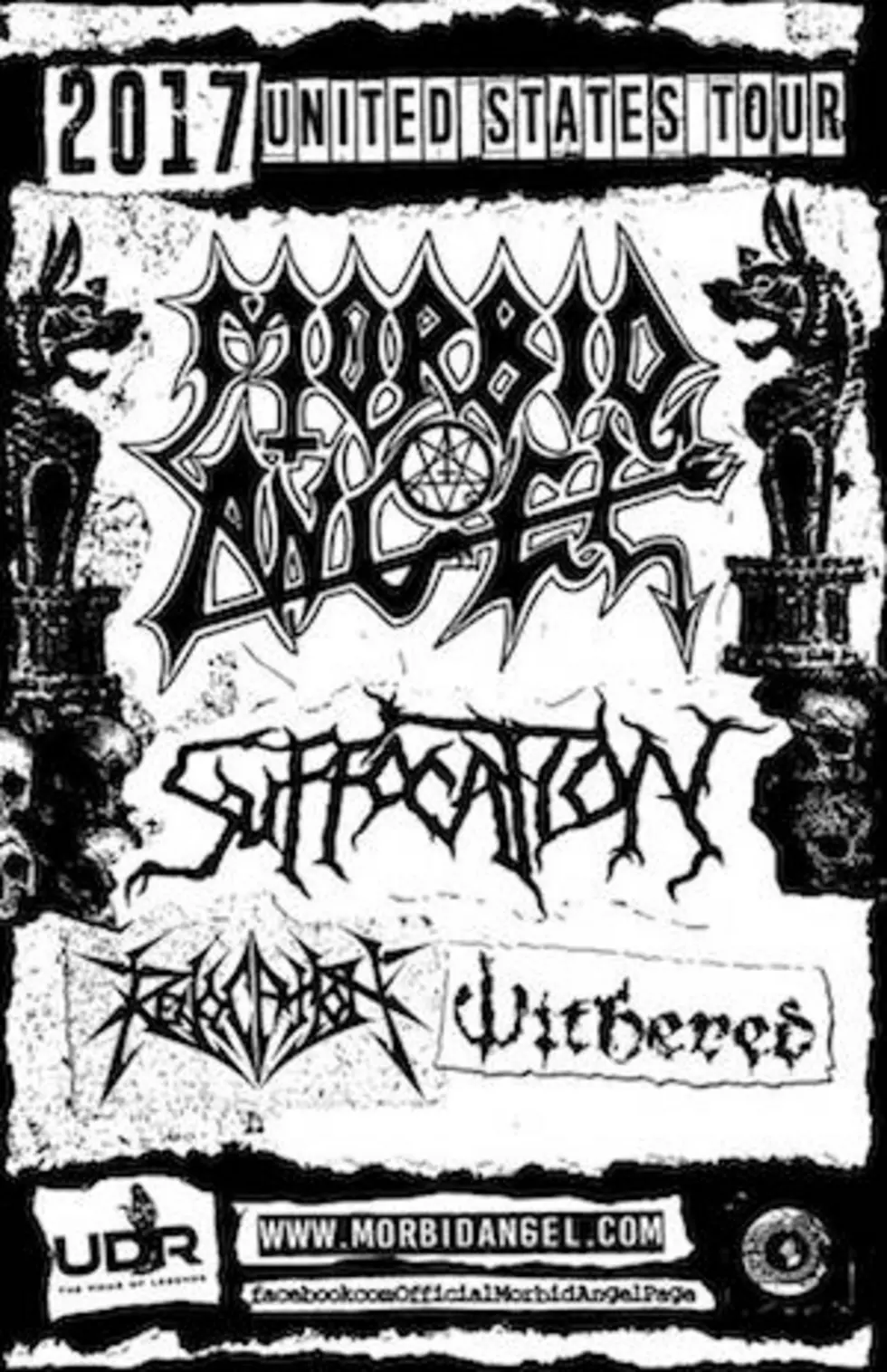 Morbid Angel to Tour U.S. With Suffocation + More, Reveal Second Guitarist
Morbid Angel / UDR
(Un)Holy heavy! Morbid Angel are returning with a revamped lineup in 2017, promising a new album is on the way. The news just got even better for fans of the legendary death metal outfit as they'll be hitting the road for an extensive and unequivocally brutal U.S. tour alongside the equally legendary Suffocation, technical death thrashers Revocation and the crushing Withered.
The run will launch from Orlando, Fla. on May 23, working its way along the East Coast before venturing out west, ultimately reaching the West Coast with a string of California shows before trekking through the lower half of the country, wrapping it up in New Orleans over one month later on June 27. See a list of all the stops below.
Guitarist Trey Azagthoth and bassist / vocalist Steve Tucker collectively stated on Facebook, "We are excited to get back out on tour with longtime friends and death metal brothers Suffocation as main support. We have also added the technical thrash metallers Revocation and newcomers Withered to what will promise to be a great night. The tour will also mark the unveiling of the new lineup of Morbid Angel Angel featuring Scott Fuller (Annihilated, Errorgeist) on drums and Dan Vadim Von ( guitarist / frontman of the American death metal band VadimVon) on second guitar."
Recent Morbid Angel tours had understandably leaned heavily on material from both David Vincent eras of the band, but this trek will see them shake the setlist up. Azagthoth explained, "We are excited to bring back lots of cool songs that haven't been in the live sets for a long while. Do you suffer the same sickness????" During Tucker's first run with the band, he performed on Gateways to Annihilation, the chaotic Formulas Fatal to the Flesh and Heretic.
Morbid Angel, Suffocation, Revocation + Withered 2017 U.S. Tour Dates
5/23 - Orlando, Fla. @ The Beacham
5/24 - Tampa, Fla. @ The Orpheum
5/25 - Atlanta, Ga. @ The Masquerade
5/27 - Baltimore, Md. @ Maryland Deathfest
5/28 - Boston, Mass. @ Brighton
5/29 - New York N.Y. @ The Gramercy Theater
5/31 - Pittsburgh, Pa. @ Small's
6/01 - Cleveland, Ohio @ House of Blues
6/02 - Detroit, Mich. @ The Crofoot
6/03 - Chicago, Ill. @ The Metro
6/04 - Minneapolis, Minn. @ Cabooze
6/06 - Fayetteville, Ariz. @ George's Majestic
6/07 - Lawrence, Kan. @ Grenada
6/08 - Denver Colo. @ Bluebird
6/10 - Salt Lake City, Utah @ The Complex
6/12 - Seattle, Wash. @ Studio Seven
6/13 - Portland, Ore. @ Dame's
6/15 - San Francisco, Calif. @ The Social Hall
6/16 - Los Angeles, Calif. @ The Regent
6/17 - Pomona, Calif. @ Glasshouse
6/18 - San Diego, Calif. @ House of Blues
6/20 - Phoenix, Ariz. @ Marquee
6/21 - Albuquerque, N.M. @ Sunshine
6/23 - Dallas, Texas @ House of Blues
6/24 - Austin, Texas @ Grizzly Hall
6/25 - Houston, Texas @ House of Blues
6/27 - New Orleans, La. @ House of Blues
See Morbid Angel + Suffocation in the Top 25 Extreme Metal Albums of All Time
See Morbid Angel + Suffocation in the 10 Greatest Death Metal Bands