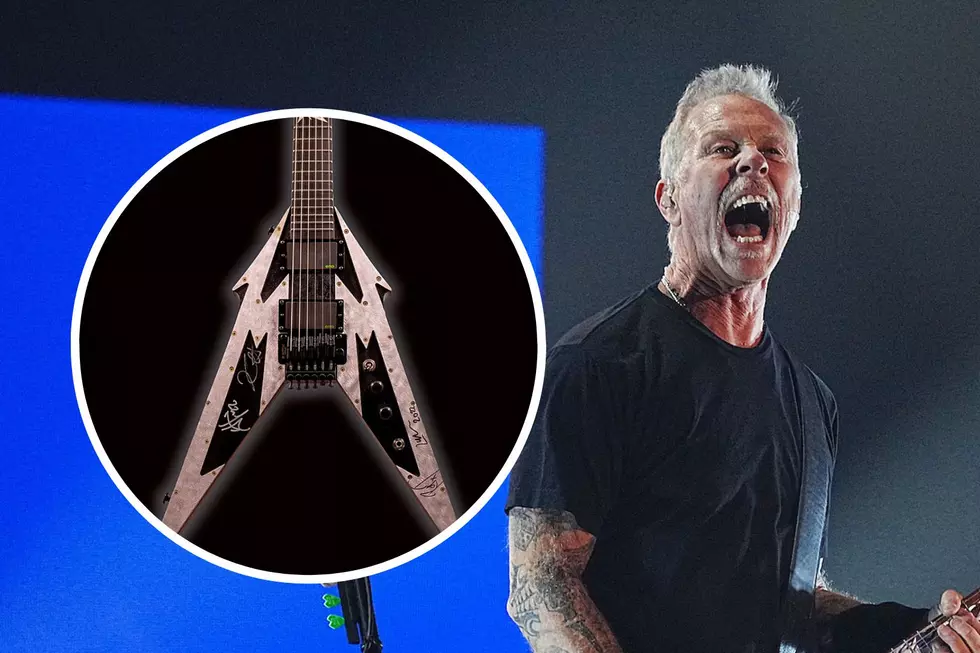 Metallica Raffling Off Signed, Ultra Metal-Looking 'Flying M' Guitar for Charity
Jeff Kravitz, Getty Images / Fandiem
Now here's something truly metal from the metal masters themselves, Metallica. The veteran band are set to raffle off a super metal-looking, signed "Flying M" guitar for charity, and you can possibly end up getting your hands on it just by making a donation.
The band has partnered with Fandiem for the raffle, with this special electric guitar being the ultimate prize. This custom-designed guitar is based upon the design of James Hetfield's Flying V, with the lightning strike imagery down the two sides of the V forming an "M." It was designed and built by Inventables and Highline Guitars, and you can currently enter to win this awesome looking instrument with your donation through March 14.
The guitar was built using mahogany, ebony and sheets of aluminum composite. It is also equipped with signature Kirk Hammett EMG Pickups, giving it a rich, full sound that will blow you away and the members of the band have autographed the instrument. This guitar has an approximate retail value of $10,000.
So how do you enter to win? You must be 18-years-old and the raffle is only available to legal residents of the United States. Through Fandiem, fans can make donations of $10, $25, $50, $100, $250 or $500, with the donations then resulting in an entry into the raffle. The money collected will then go to Metallica's All Within My Hands foundation funding of their Metallica Scholars program.
The Metallica Scholars program has provided support to community colleges to assist in career and technical education programs.
You can enter through March 14 at 11:59PM ET, with the drawing taking place on March 17 at 8AM PT. So head on over to Fandiem and make your donation to potentially win this most metal of Metallica guitars now.
Separately, Loudwire are also hosting a Metallica contest where eligible entrants can win a trip for two to Los Angeles to see the metal legends perform for two night at So-Fi Stadium. Get all the details on the prize package and how to enter (through Jan. 27) here.
See all of Metallica's upcoming tour dates here and, for tickets, head to this location.
These Are the 16 Songs Metallica Have Never Played Live
Metallica have never played these songs live before.
PLAYLIST: Early Thrash - The Beginning & The '90s
To listen and/or follow, head here.
The 16 Most Expensive Guitars of All Time