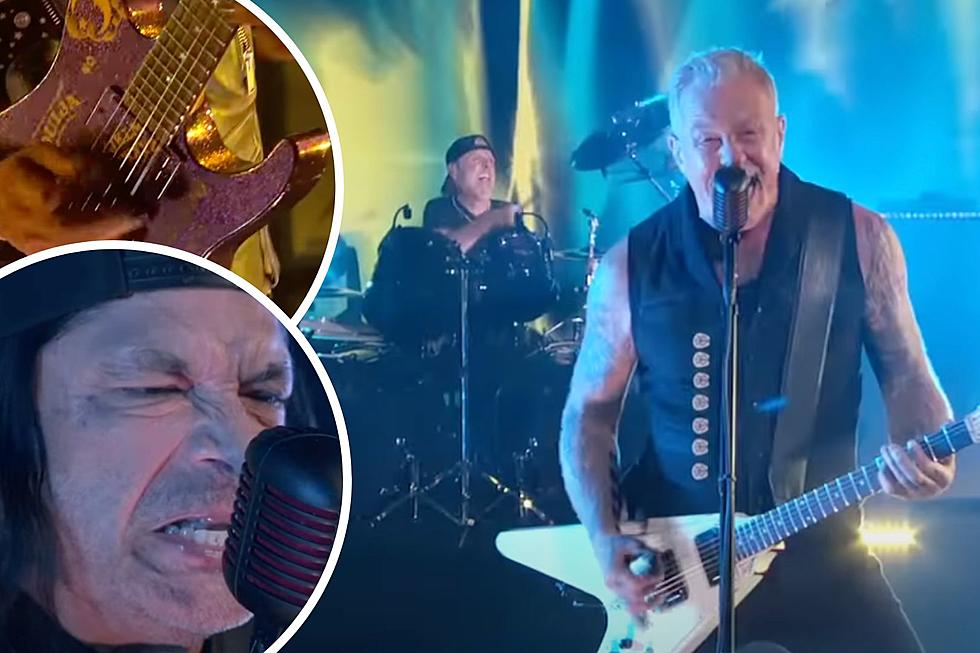 Metallica Kick Off Night One of Four on 'Jimmy Kimmel Live!' With 'Lux Aeterna'
YouTube: Jimmy Kimmel Live
"Lux Aeterna" was the world's first taste of Metallica's new 72 Seasons album, so it's only fitting that they launch into that track on the first of four nights on late night talk show Jimmy Kimmel Live!, delivering a totally crushing performance.
"Their new album 72 Seasons comes out Friday. Here with the song "Lux Aeterna," Metallica!," exclaims host Kimmel, introducing the metal legends to audiences in-studio and at home, as seen in the video near the bottom of the page.
The concise, high-energy song is an ideal choice to preview what four nights of Metallica on late night TV will offer, a rollicking dose of old school heavy metal and proof positive that even though the band is approaching 40 years since the release of their debut album, they've still got it and then some.
It's easy to see why drummer Lars Ulrich recently said he hopes Metallica have another decade of touring left in them — James Hetfield's voice is in top shape and reaches some thrilling highs and Robert Trujillo adds some great backing vocals to complement him.
READ MORE: The 10 Heaviest Bands to Play on Late Night TV Shows
All four members of Metallica also joined Kimmel for 10 minutes of chatter during an interview portion of the show, where they reflected on the viral Stanger Things scene featuring "Master of Puppets," touched on their newly launched marching band competition, the first albums they ever bought and more.
Watch that video below as well and keep your eyes out for more Metallica performances on Kimmel through Thursday night.
Look for 72 Seasons to drop on Friday (April 14) and catch Metallica on their worldwide tour at these dates. For tickets, head here.
Metallica Play "Lux Aeterna" on Jimmy Kimmel Live (April 10, 2023)
Metallica Talk Master of Puppets on Stranger Things, M72 World Tour & First Albums They Ever Bought on Jimmy Kimmel Live! (April 10, 2023)
Ranking the Opening Song on Every Metallica Album
We ranked the opening track on every one of Metallica's studio albums.
Ranking the Closing Song on Every Metallica Album
We ranked the closing track on every one of Metallica's studio albums.