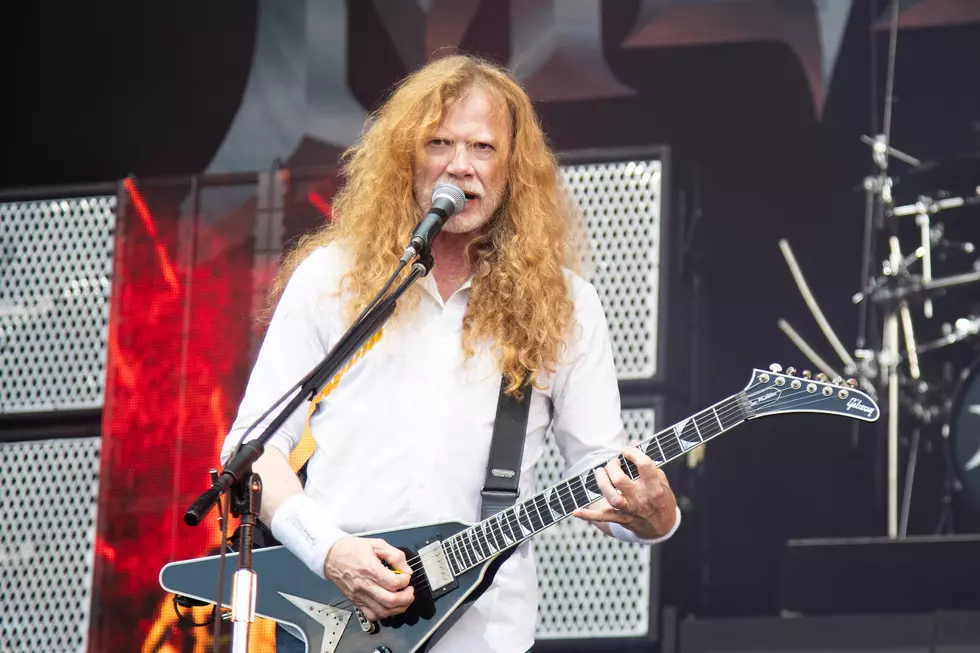 Megadeth's Dave Mustaine Reveals One Way in Which He Sees the Band Ending
Joseph Okpako, WireImage/Getty Images
Megadeth have made it through lineup changes, an imposed hiatus and Dave Mustaine's cancer scare, yet still remain as one of metal's most consistent touring artists, but during an appearance on The Jeremy White Show podcast (as heard below), Mustaine revealed the one thing he feels might shut down the band earlier than he had hoped.
When thinking about the end of the band's career, Mustaine noted,  "I'm sure that that's going to come at some point, but you know I don't see anything right now,"
"I feel good about my health and… the only thing that would be weird is if I ever got in a situation where I have to stop singing," he explained, as transcribed by Metal Injection. "Even if I could play, if I couldn't sing – I think because of [Megadeth] being built on my voice – I don't think that I would carry on. I just think if I didn't do that, I would be cheating the fans."
Mustaine added, "Not that I'm a great singer, but I have a lot of a lot of thinking to do as we are watching the sun rise on our career right now. Because it should should be setting. It's setting on a lot of my peers' career, if it isn't already set. But it seems like the sun is still rising in the land of all things [Megadeth]."
READ MORE: Every 'Big 4' Thrash Metal Album Ranked From Worst to Best
The current lineup, which also includes guitarist Kiko Loureiro, bassist James LoMenzo and drummer Dirk Verbeuren, are back out on tour this summer, with a European run scheduled to kick off in late July after their Inkcarceration Festival appearance on July 16 in the U.S. The dates come in support of the band's 16th studio album, The Sick, The Dying ... and the Dead that arrived in 2022. Be sure to get your tickets here.
Megadeth's Dave Mustaine Guests on The Jeremy White Show Podcast
25 Legendary Metal Albums With No Weak Songs