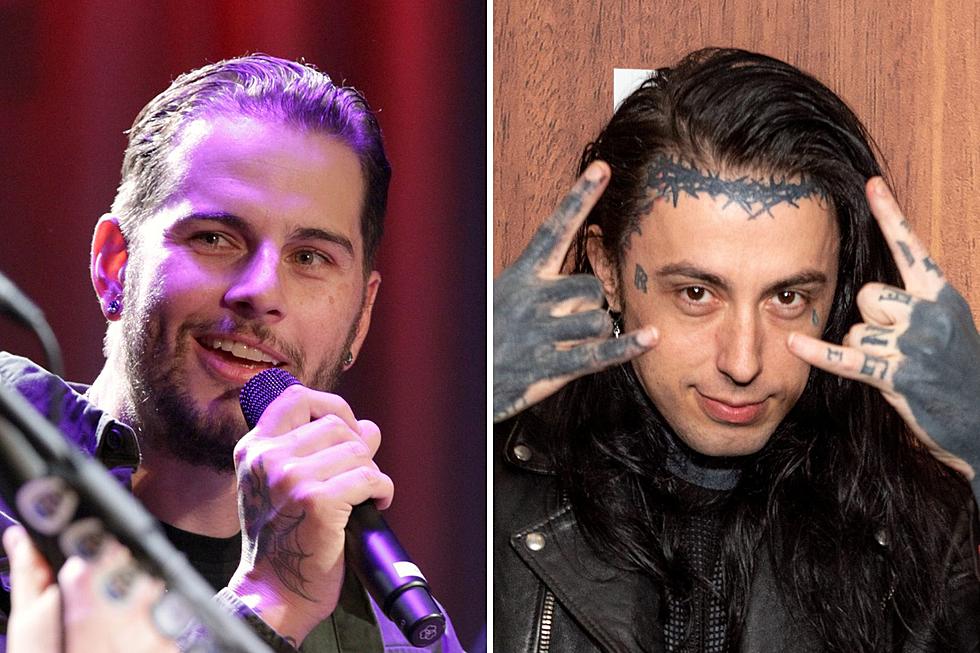 M. Shadows Defends Avenged Sevenfold's Decision to Play With Falling in Reverse
Rebecca Sapp / Elyse Jankowski, Getty Images
Avenged Sevenfold vocalist M. Shadows has again vouched for Falling in Reverse bandleader Ronnie Radke, saying Avenged Sevenfold won't "give in" to what he suggests is "pressure" to remove Falling in Reverse from upcoming Avenged Sevenfold bills.
This summer, Falling in Reverse are scheduled to play two of Avenged Sevenfold's first live shows back in five years. Avenged Sevenfold have also announced surrounding dates with Alexisonfire.
Two weeks ago, the band Spiritbox said they'd dropped off a run of dates with Falling in Reverse that had already been announced. Though Spiritbox didn't specify a reason, the preceding backlash that seemed to drive the decision appeared due to Radke's allegedly problematic past and reportedly combative behavior. Radke responded to the tour withdrawal.
Avenged Sevenfold + Falling in Reverse
"I know Ronnie, I like Ronnie," Shadows tells host Finn McKenty on McKenty's The Punk Rock MBA podcast from March 27, as ThePRP reported. Watch the video down toward the bottom of this post.
But as the Avenged Sevenfold frontman explained it, they've gotten pushback from others about including Falling in Reverse on their upcoming shows.
READ MORE: We Answer the Internet's Most Searched Questions About Avenged Sevenfold
"We've had everything from radio stations not want to talk about our shows," Shadows says. "We've had many bands, more than that are in the press, have had a problem or backed out of shows with us. And that is their right. That's awesome. Fine; it's fine. But we are not going to give in to that pressure."
He continues, "Anyone that knows me, I've been very vocal about my my support of all sorts of these groups that are attacking Ronnie right now, personally, right? Whether it's the LGBTQ or whatever, all these communities right? I really do want everybody to do whatever they want in their life that makes them happy. I've spoken out for women's rights. I've spoken out for Black Lives Matter. I've done all these things that I feel very passionately about."
But Radke's "allowed to have an opinion," he says. "His opinion ruffles feathers, and then he digs his heels in."
Shadows adds, "I've looked at all of his accusations. There's been no proof on these things."
He continues, "He did time for the one thing he did do. And it's almost like this society where you can't come back out and have any sort of career or anything happen, because you don't like that this guy is a firecracker and he's gonna hit back at you."
Radke was sentenced to two and a half years in prison in 2012 after violating parole terms following a 2006 incident that left one person dead, according to Rolling Stone. Though Radke didn't kill the person, as Alternative Press reported, he pleaded guilty to battery for his part in the incident surrounding the shooting death of Michael Cook.
Ronnie Radke = Rock + Roll Danger?
"This goes back to rock 'n' roll and danger," Shadows tells McKenty, suggesting Radke epitomizes the ominous flash seen in other envelope-pushing rockers.
"Ronnie, to me, is a perfect character that would have been the Axl Rose or the sort of Marilyn Manson, even Kurt Cobain," the Avenged Sevenfold singer continues. "When you think about rock 'n' roll, you think about Led Zeppelin throwing meat on the girls. And you think about all these sorts of things — but no one has a word to say — or Elvis dating underage girls or whatever it is."
He adds, "Now we've got a guy that, literally — it's like we want rock 'n' roll to be dangerous, but we don't. But what happens is rock 'n' roll will take a new form, and it will be something different. And right now, it's kind of hip-hop; it's emo-rap, whatever it is. I mean, there's a danger that goes on still, and then where is everybody at? What's everyone listening to? What's successful right now? That is what's happening."
Two months ago, Shadows gave a nod to Falling in Reverse and their recent success by saying that listeners should "pay attention" to Radke.
Avenged Sevenfold's upcoming album Life Is But a Dream… arrives on June 2. The band released the song "Nobody" earlier this month. Get Avenged Sevenfold concert tickets here.
Sign up for Loudwire's newsletter and get the Loudwire app to stay up on the latest rock and metal news.
Avenged Sevenfold's M. Shadows on The Punk Rock MBA - March 27, 2023
Avenged Sevenfold's M. Shadows Through the Years