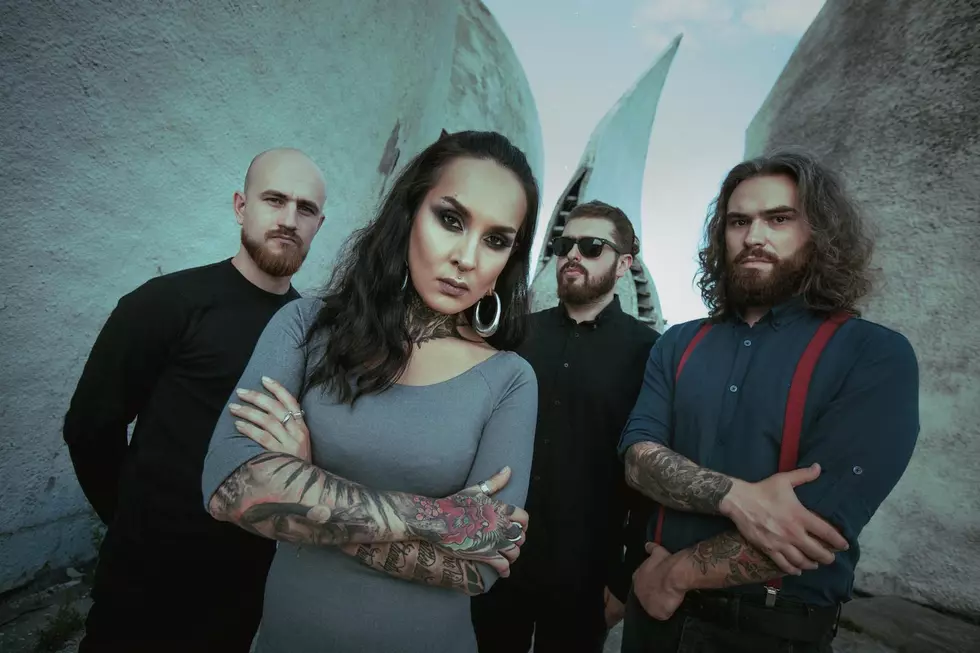 Jinjer Raise Over $140,000 for Ukraine With Charity T-Shirt Campaign
Photo by Tementiy Pronov
The Ukrainian metal band Jinjer has raised over $140,000 in aid for their country following Russia's invasion of it with charity T-shirts they launched earlier this month in place of a planned tour of America alongside Slipknot on the Knotfest Roadshow.
After Russia began attacking in February, Jinjer confirmed their members' safety but condemned the invasion led by Russian President Vladimir Putin. In protest, proceeds from the sale of the limited edition shirts will help charities throughout Ukraine.
There's still time to order your Jinjer T-shirt through the band's official merchandise stores. See both designs that are available near the bottom of this post.
Jinjer said in a March 20 update, "Dear friends! Over 11,000 Donation Tee's sold and 130.000€ [$143,475 U.S.] raised in the last few weeks! Your support will not only help so many people in need but sends a much needed positive sign that they are not alone."
The band continued, "The first donations totaling 10K have already been sent to a bomb shelter in Kyiv housing and protecting 300 people, and a Slovakian humanitarian convoy collecting urgent medical supplies, food and clothing to be delivered Uzhgorod for refugees from the Kharkiv and Chernihiv regions who have been hit hard since the war started."
They added, "More updates on where and who your donations have helped will be posted soon! On behalf of the entire band, crew, label and all of Ukraine — WE THANK YOU! For those of you that have not grabbed a shirt yet, both designs are available."
Russia's invasion of Ukraine followed a period of tension between the two countries after Putin last year began stationing troops near their shared border in a continuation of the crisis that began in 2014 with the Russo-Ukrainian War, as Vox outlined. The situation became further strained when Putin threatened countries that might try to intercede, per CNN. Subsequently, he declared a nuclear alert and ordered his forces into "special combat readiness" last month, according to The New York Times.
In addition to Jijner, several other bands have also shown support for Ukraine. Other artists are canceling or postponing shows in Russia in response.
Jinjer Ukrainian Support T-Shirts
Jinjer T-Shirt Update - March 20, 2022
Rock + Metal Bands Helping Provide Support for Ukraine
Amid Russia's invasion of Ukraine that began in February 2022, several rock and metal bands came up with ways to offer tangible support for affected Ukrainians. See some below.