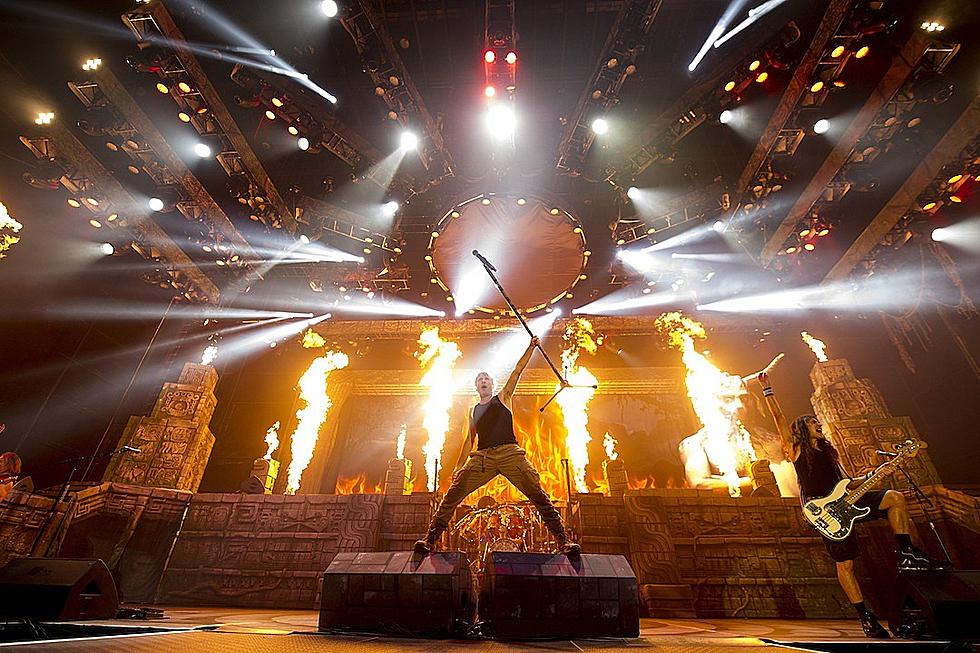 Iron Maiden's Headlining Tour Made Millions of Dollars
Facebook: Iron Maiden
Billboard's latest Boxscore report lists various Iron Maiden ticket sale revenue tallies from their European/UK headlining tour with Killswitch Engage, and the numbers are quite impressive. The highest-earning date took place in Madrid, where the band sold out the 48,689 capacity Wanda Metropolitano venue. With tickets priced at two tiers of $151.88 and $99.31, a total of $4,797,916 was generated from gross sales. Their second largest date came in Hannover, Germany, which generated $2,311,161 in total ticket sales.
In July we reported an earlier Boxscore listing of additional dates on Maiden's tour, which also offered staggering numbers. They sold out the Tele2 Arena in Stockholm, Sweden, with 37,221 tickets generating $2,926,064 in gross sales. nearly sold out Letnany Airport in Prague, moving 29,763 of 30,000 tickets and generating gross sales of $2,314,576. In Helsinki, Finland they played at Hartwall Arena, which is a 20,344 capacity venue, and generated $2,072,080 from selling it out.
Below you can see a full list of numbers from Boxscore's most recent report, which were compiled by The PRP. It's worth noting that their Madrid show landed them inside the top 10 highest-grossing date's of the list, outpacing select shows from both Beyonce and U2.
Artist: Iron Maiden, Killswitch Engage
Venue: Madrid, SPA – Wanda Metropolitano
Attendance/Capacity: 48,689 / 48,689
Gross Sales: $4,797,916
Ticket Prices: $151.88, $99.31
Artist: Iron Maiden, Killswitch Engage
Venue: Hannover, GER – Messegelande
Attendance/Capacity: 30,000 / 30,000
Ticket Prices: $77.09, $73.59
Gross Sales: $2,311,161
Artist: Iron Maiden, Killswitch Engage
Venue: Paris, FRA – AccorHotels Arena
Attendance/Capacity: 30,794 / 30,794
Ticket Prices: $84.39, $58.61
Gross Sales: $2,189,356
Artist: Iron Maiden, Killswitch Engage
Venue: Krakow, POL – Tauron Arena
Attendance/Capacity: 30,617 / 30,617
Ticket Prices: $83.22, $20.67
Gross Sales: $2,173,988
Artist: Iron Maiden, Killswitch Engage
Venue: Arnhem, NET – GelreDome
Attendance/Capacity: 20,026 / 23,200
Ticket Prices: $84.39, $58.61
Gross Sales: $1,646,254
Artist: Iron Maiden, Killswitch Engage
Venue: Milan, ITA – Ippodromo
Attendance/Capacity: 16,272 / 17,500
Ticket Prices: $113.05, $83.30
Gross Sales: $1,444,708
Artist: Iron Maiden, Killswitch Engage
Venue: Manchester, UK – Manchester Arena
Attendance/Capacity: 14,758 / 14,758
Ticket Prices: $77.75, $64.80
Gross Sales: $1,111,545
Every Iron Maiden Song Ranked