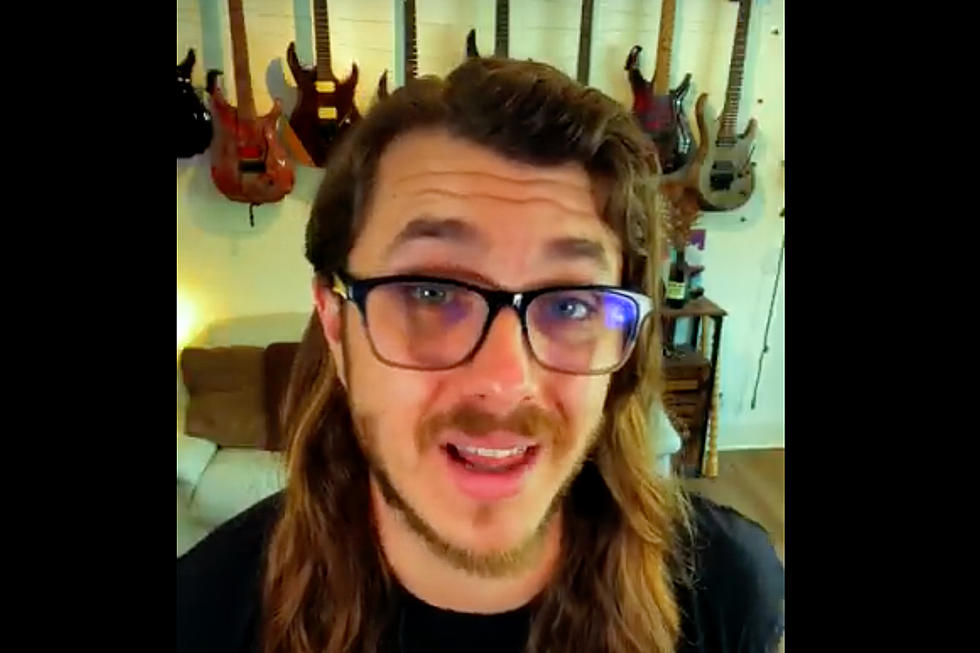 Ice Nine Kills Guitarist Exits Tour Over Medical Diagnosis, Bad Wolves + Interloper Guitarists to Fill In
YouTube: Dan Sugarman
Ice Nine Kills are back out on the road, but they'll be minus the services of guitarist Dan Sugarman who revealed in a newly posted video that he recently discovered a lump on his neck and will be treated in the near future while stepping away from touring.
"Not too long ago, amidst the finalizing with INK team my return to the touring situation… We found a lump on my neck. Fast-forward through a bunch of biopsies, MRIs, a bunch of sleepless nights… I got the call that nobody ever wants to hear," said the guitarist. "I have a team of incredible doctors that I trust in. We have a plan and I am ready to continue my healing surrounded by friends, family, loved ones and the amazing support of people like you. That said it's becoming apparent that I need to sit home and sit out—at least on the very beginning—of a tour of a lifetime, literally the tour of my dreams."
Sugarman later revealed that it's a thyroid-related issue and urged fans to get their checked regularly. He also added, "I just need you guys to know that it's already in the books that I'm OK. I've been OK, I'm gonna be OK."
He also added that he's not one for fundraising via Indiegogo or other sites, instead directing fans to his merch shop (Sugarmanshop.com), Bloodlinecable.com for cables, Murderaxe.com for guitars, Dansugarman.com/booknow for guitar lessons, Cameo for specialized messages (Cameo.com/dansugarman) and his music education site (Slipstream.studio) to help out financially.
READ MORE: 10 Rock + Metal Bands That Only Write Songs About One Specific Thing
Ice Nine Kills will continue to tour in Sugarman's absence, welcoming Interloper's Miles Dimitri Baker and Bad Wolves' Doc Coyle filling in. Coyle will also be rocking one of Sugarman's guitars onstage in tribute.
Meanwhile, Ice Nine Kills also offered a statement on Sugarman's absence. It reads as follows:
We're excited to see all of you European psychos as we embark on Metallica's M72 World Tour as well as our own Wurst Vacation headliner, all of which kicks off this weekend in Amsterdam. But unfortunately, we do so with a heavy heart. Over the last several months we had been working towards bringing our brother and lead guitarist, Dan Sugarman, back on stage with us for the first time since post-COVID touring.

As he announced today, however, Dan is unable to join us due to his recent medical diagnosis. While supporting our boy is always top of mind, Dan and the band have been working together to train two of the top guitar player sin heavy music to fill his insanely big shoes – Miles Dimitri Baker and Doc Coyle.

These two new friends of ours will join Ricky for a triple guitar onslaught the likes of which you've never seen.

In addition, Doc will carry Dan's spirit on stage with us by using his signature guitar model, The Murder Axe.

Please welcome Miles and Doc to the INK family and send Dan all the love and support he needs right now.

We'll see you soon… The shows are right around the coroner…
You can catch Ice Nine Kills on tour at these locations.
Ice Nine Kills' Dan Sugarman Offers an Update on His Health
10 Metalcore Bands Who Don't (Or Barely) Use Cleaning Vocals
It's not what you usually think of when you think of metalcore, is it?