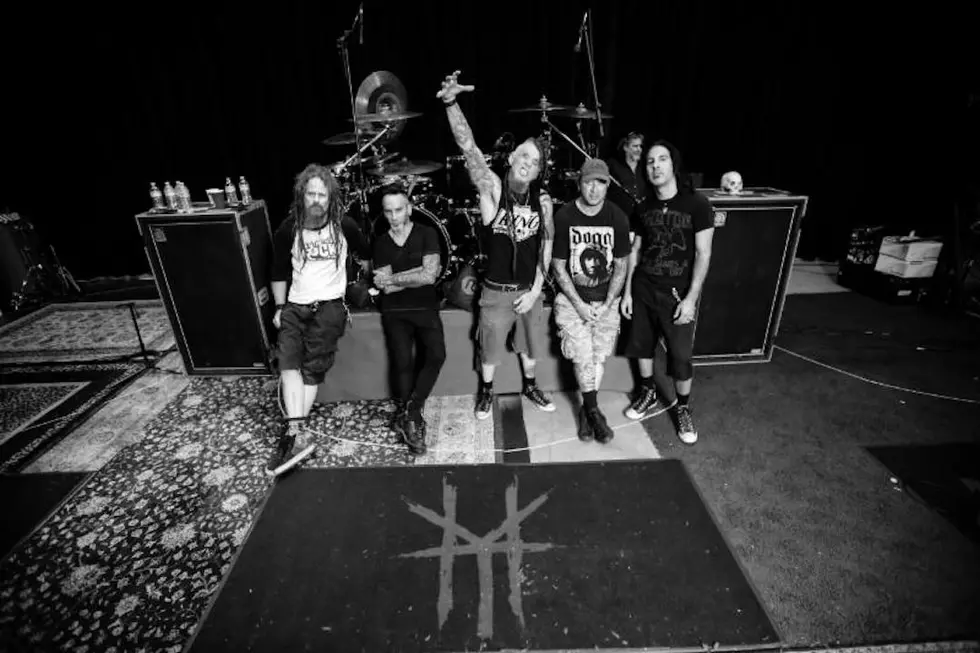 Hellyeah Guitarist 'Would Love to Continue On' With the Band
Photo credit: William Felch
After the death of drummer Vinnie Paul last year, Hellyeah felt the need and desire to complete the album they were working on at the time of his passing and give it a proper promotion, but what happens after support of Welcome Home is complete?
Speaking with Metal Injection, guitarist Christian Brady says that is something the band is still feeling out, but on a personal level the musician would like for Hellyeah to continue.
When asked about the band's future, Brady explained, "I don't know if I really can answer that right now. Everything feels really good right now to be playing together again. We're excited to be out here doing this and supporting this record and honoring our brother. I think that's something that we're gonna have to try to feel out as we go along and see where we're at when we're done with this record cycle and see what everybody is feeling."
He added, "There's a lot of emotions involved. I personally think that I would love to be able to continue on because I couldn't imagine not playing with these guys and making the music we make. Obviously, Vinnie was such a big part of that. There's a lot to that. So I think honestly that's something we're kind of taking day by day right now. We're doing this tour and we're going to support this record and celebrate Vinnie and his legacy. And I think that's something we'll probably really address as we get further down the road and see where everybody's heads are at."
Brady saw Vinnie Paul as a major presence within the band and that's not something to be taken lightly. "He was such a such a lifeline to this band, such a big presence and part of this band. He lived and breathed this band, that's what he was. He loved where he was in his life. We really miss him man. He's missed very much every day," says the guitarist, adding that there was never a doubt about whether they should finish their album.
"I guess it would have been a different story if his drum parts weren't finished or if we were just getting started, but because we were at the point we were at with the record where all the drum tracks and guitars and bass had been laid down we were able to finish it," says the guitarist. "All the arrangements and everything were already there. It was fortunate that that was the case because at least we got one more record to be able to give to the fans that Vinnie was a part of."
The band has recruited Stone Sour's Roy Mayorga to fill in for the late Vinnie Paul during touring, but at this point no long term decisions have been made beyond their support of the new album. Welcome Home arrives on Sept. 27 via Eleven Seven Music. New dates promoting the album start up Sept. 6 in Jacksonville, N.C.
Top 50 Rockers Who've Been in Multiple Successful Bands