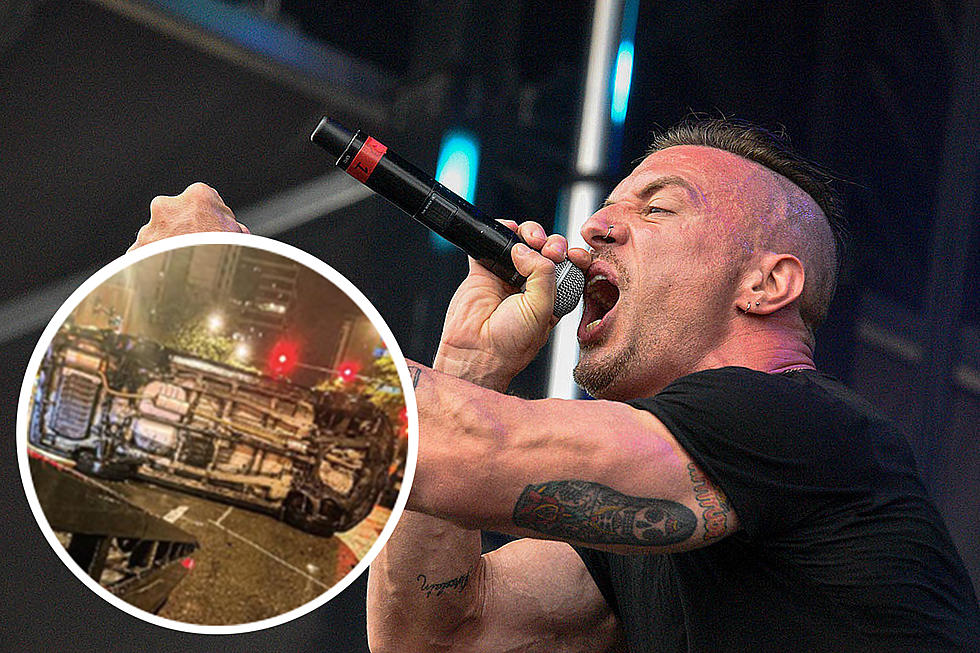 Greg Puciato's Gear Trailer Struck + Flipped by Alleged Drunk Fan After Show
Evil Robb Photography, Loudwire / Instagram - @gregpuciato
A trailer carrying gear for Greg Puciato's band was struck and flipped by a drunk fan after his show last night (May 10) in Denver, Colorado. Fortunately, no one was injured during the impact.
Puciato spent the first few months of 2023 touring with Jerry Cantrell, but is currently on his first-ever North American solo tour in support of his 2022 album Mirrorcell. Last night's performance in Denver was the sixth stop on the trek, and in a post on Instagram, Puciato said that it was their best show yet, and the crowd was the best of them all thus far.
"Then we walked outside and our trailer immediately got smacked by a drunk driver at 50mph, who hit it hard enough to flip the fuck over in the middle of the street. You know what's crazy? We were three hours late to load-in today. Which at the time seemed like a drag. But... if we would've been on time? One, or more, of us would've been out there loading the trailer," he wrote in the caption.
His post further states the driver of the vehicle that struck the trailer was in attendance at the show. Fortunately, his next performance isn't until tomorrow night in Minneapolis, and Puciato assured that they will figure the situation out and will not miss the show.
READ MORE: 10 Best Clean Singers in Metalcore
"This existence is a test. Checks and balances. Best show of tour? Ready to celebrate? Nah your trailer is about to get blasted by a drunk driver. What the fuck ever. Can't stop won't stop. I'm glad the driver and his passenger are both still alive. Call Uber next time," the caption concluded. A fan commented on the photo asking if they could donate, and Puciato replied, "www.toocool4gofundmeotherpeoplehaverealproblemsbutthankyouforcaring.com."
See the post, which includes images of the flipped trailer, below.
Puciato and his band have another 18 stops on the run before it wraps up in Los Angeles on June 7. See the rest of the upcoming dates and get tickets here.
66 Most Important Moments in Metal History