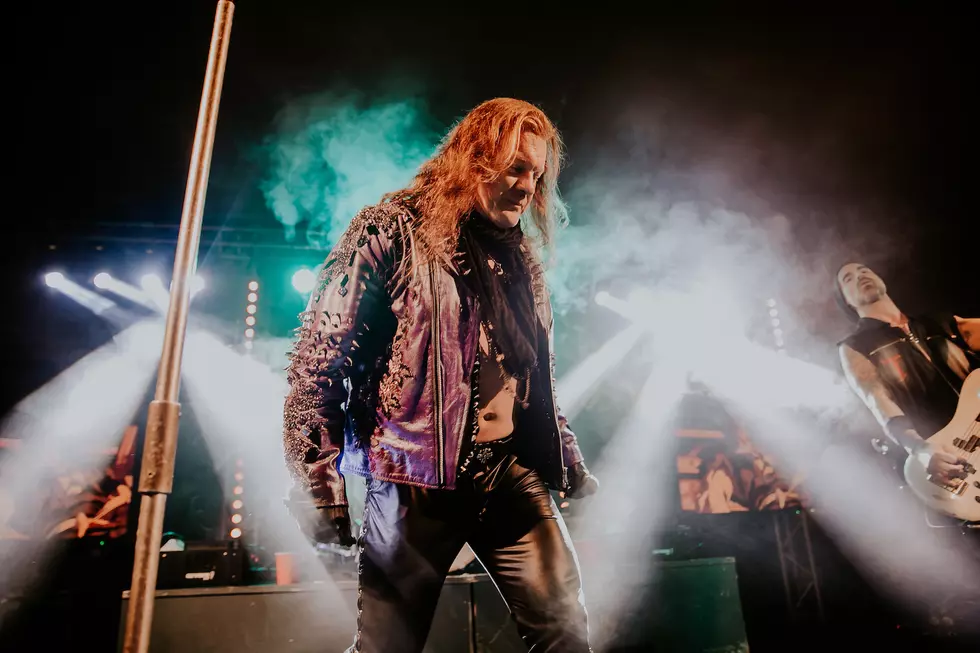 Fozzy's Chris Jericho Recalls the Embarrassment of Playing for 7 People
Mike Lewis Photography / Redferns / Getty Images
"It's so embarrassing!" Chris Jericho exclaims when remembering his rock band Fozzy's early days performing for what he estimated was his smallest crowd ever — seven people.
It's the same amount of attendees the lead singer and championship AEW pro wrestler said was the smallest group of wrestling spectators he's ever entertained.
And maybe it's Jericho's lucky number. After all, the musician and athlete has come a long way from playing music in dive bars and wrestling on the independent circuit.
But everyone's gotta start somewhere, right? That's some of what fans can take from Jericho's new interview with Marc Maron, previewed at the end of the comedian's Dec. 12 podcast with actress Andrea Riseborough.
"The smallest crowd I think I wrestled [for] was in Rimbey, Alberta," Jericho tells Maron. "Seven people. And it's hard. Listen, I could wrestle in the stadium tomorrow in front of 70,000 people and be less nervous than wrestling in front of seven people."
The wrestler and rocker continues, "It's terrible. The people there are embarrassed. They're like, 'We made the wrong decision to come to wrestling tonight.' Same with the band sometimes. You play [and] it's like, Oh fuck. Not anymore, thankfully. But we've played the gigs with seven people with the band too. That sucks, also."
Going back to his early wrestling days, Jericho says he "did a kid's birthday party once for a hot dog and an orange juice. That's my best payoff. But you do all those ones. I mean … some of the places we worked were so shitty. I remember a guy taking a shower out of the back of a toilet."
Still, Jericho, who recently sang Smash Mouth as a pink dinosaur on The Masked Singer, acted like he wouldn't trade his early entertainment experiences for the wisdom they imbued.
And with seven concertgoers, "you actually get to know these people," he says. "That's the real secret. That's paying your dues. If you can get a crowd of seven interested in what you're doing, that's a hell of a talent."
The full Jericho interview (alongside AEW owner Tony Khan) is available to "The Full Maron" subscribers of WTF With Marc Maron. Hear the excerpt at the end of the podcast below.
Andrea Riseborough on WTF With Marc Maron - Jan. 12, 2023
Watch: Chris Jericho Goes Off the Record (2019)
25 Rockers Who've Been on Reality TV Shows