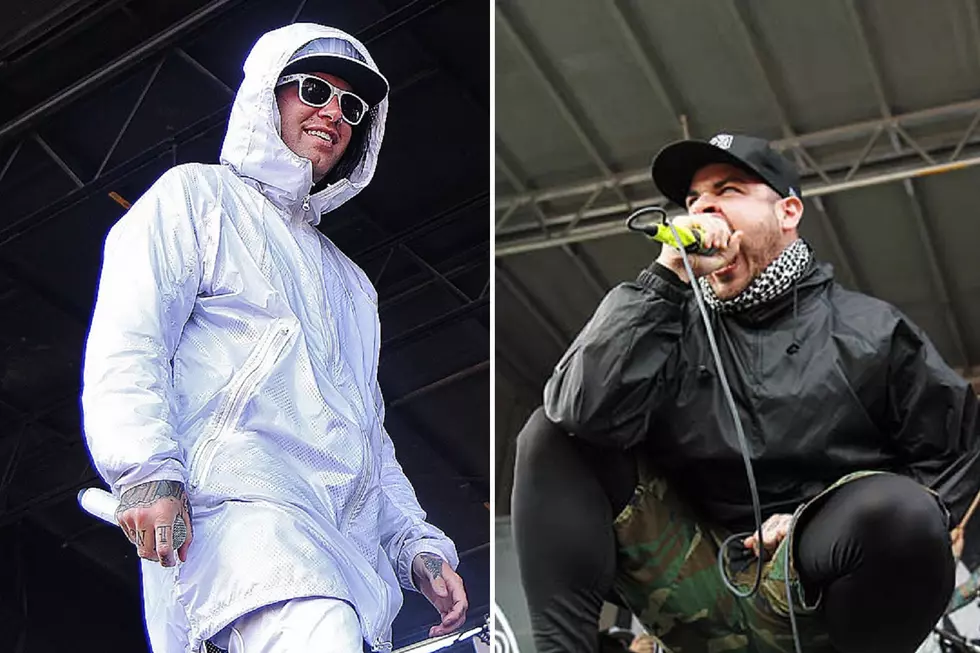 Emmure's Frankie Palmeri Joins Ev0lution to 'Callout' Attila's Fronz
Liz Ramanand, Loudwire
The war of words between Emmure leader Frankie Palmeri and Attila frontman Chris Fronzak has just gone up a few notches with the former hooking up with electronic metal music act Ev0lution for "Callout 3." The song, which can be heard below, is a response to Attila's February diss track "Callout 2," where one of the lines spouted by Fronz was "F--k the band Emmure."
"It's not really a secret [that] Frankie is a fucking turd," Fronzak said when asked about the people he called out. "I mean his entire band OF TWELVE YEARS all simultaneously ditched him. LMAO. He's talked shit to me on and off for several years too, but I just laugh at it. Do I really hate him? Nah, I don't. I don't hold any grudges. I wish the best for him and his band."
"Callout 3" is fairly short, clocking in at just over two and a half minutes. Early on, Palmeri can be heard intoning, "Fronz is a little bitch" and then says, "I would never talk shit for the hell of it/that's a big sign that you is irrelevant."
One of the most interesting facets of the song is that it seems to be completely about Fronzak, where as the Attila track attacked Emmure with just one line. Even the cover art, which can be seen below, takes aim at Fronz, depicting him as a screaming baby in his ubiquitous "Sick" wool cap. And on their official Facebook page, Ev0lution wrote:
"HI Fronzilla!
F YOU TOO😘
Fronzak has yet to respond, but the release of "Callout 3" can't be entirely coincidental as it dropped just hours before the latest Attila video clip for the single "Blackout."
See Emmure's Frankie Palmeri in 10 Insane Onstage Accidents
25 Best Metalcore Albums of All Time