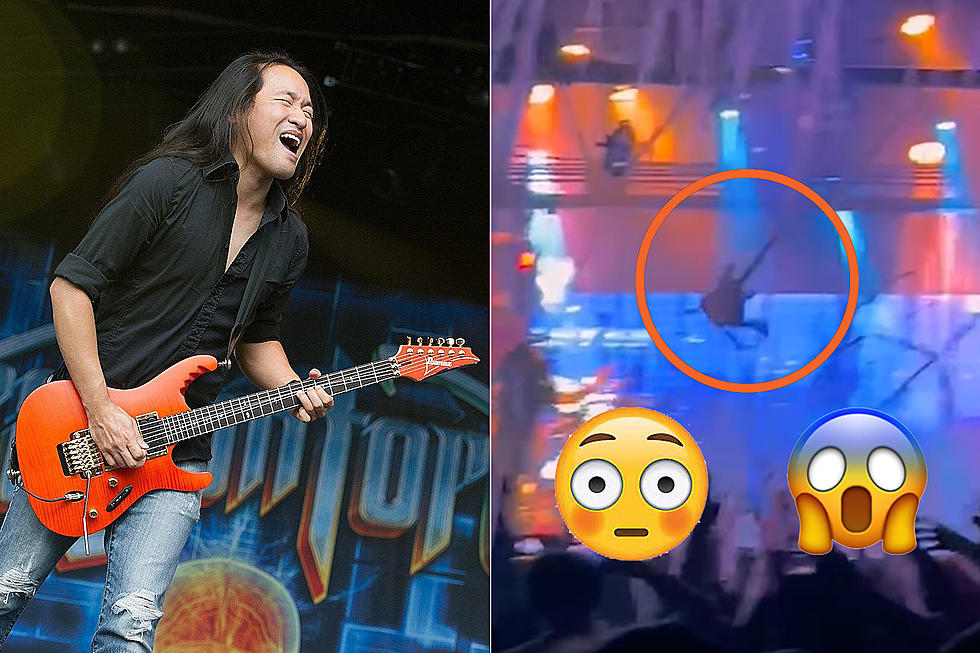 DragonForce's Herman Li Launches Guitar Across Stage, Tragic Results Captured on Video
Katja Ogrin, Redferns/Getty Images / Apple/iOS
At a recent tour stop in Texas, DragonForce's Herman Li launched his guitar across the stage, upward into the waiting arms of a road crew member, which ended with tragic results. And it was all captured on video for the world to see.
It's common to see a guitarist lob their instrument over to a roadie who is standing on the outskirts or wings of the stage to catch it. As daring as the act may appear — not to mention being a pretty damn nonchalantly cool stage move — it's all rather standard as musicians normalize making multi-thousand dollar pieces of equipment go airborne without a remote thought of potential consequences.
Hey, that's just rock 'n' roll!
And let's not forget, Li is the guy once who offered to sacrifice a $5,000 guitar for Phoebe Bridgers to smash after her now infamous Saturday Night Live! performance last year.
Accidents do happen, however, and that's the sad case for Li's guitar, which was damaged after the roadie, who was positioned atop a set of stairs on the side of the stage, failed to catch it.
The axeman memorialized the moment in an Instagram video set to Sarah McLachlan's "Angel," which showed the roadie attempting a one-handed grab, but this isn't the NFL and that roadie is not Odell Beckham Jr., the star wide receiver who made headlines around the world for a sensational one-handed touchdown grab in 2015 as a player on the New York Giants.
Unfortunately, Li's guitar came crashing down to the floor and got banged up as a result, which can be seen at the end of the same video clip. Whatever it's going to cost to fix or replace, don't count on the money DragonForce got paid to be featured in the Guitar Hero video game franchise to cover it.
At least the DragonForce guitarist isn't the first person to do something like this. Back in 2019, Iron Maiden's Janick Gers got the best of himself after teasing crowd for years at the end of concerts by swinging his guitar over their heads, only to pull it back into his grasp and away from outstretched hands. It went flying by mistake and, coincidentally, the incident also took place in Texas.
With or without that guitar, DragonForce's headlining North American tour with Firewind, Visions of Atlantis and Seven Spires continues. See the remaining dates here.
DragonForce's Herman Li Launches Guitar Across Stage
16 Most Expensive Guitars of All Time