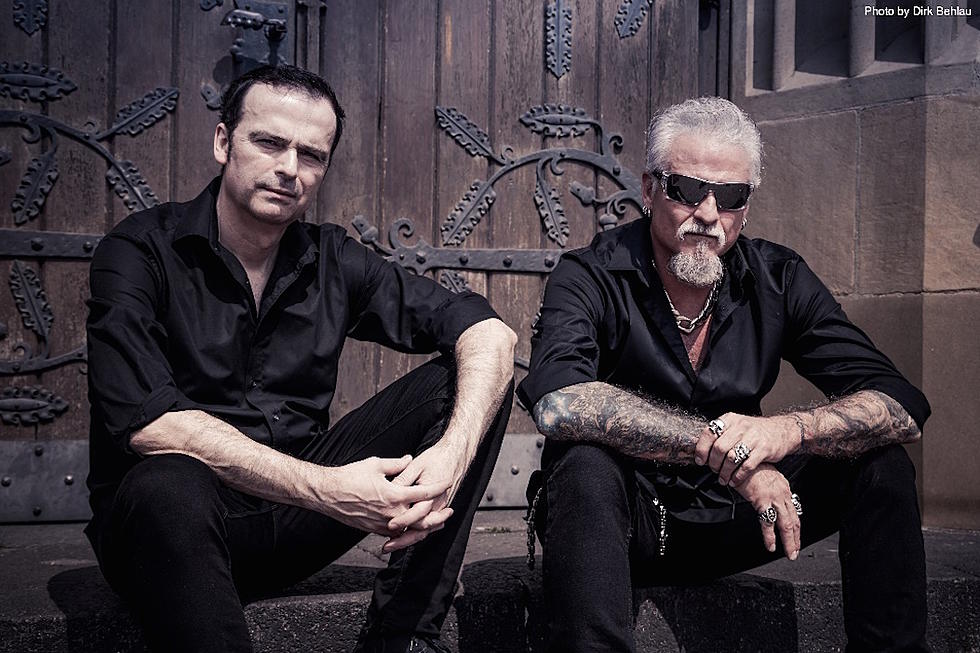 Demons & Wizards Return With Epic 'Diabolic' Music Video
Dirk Behlau
Demons & Wizards, the collaborative power metal group starring Blind Guardian's Hansi Kürsch and Iced Earth's Jon Schaffer, have released the epic new song "Diabolic," their first piece of new music since 2005.
The eight-minute track is a stunning re-entry for Demons & Wizards, setting the scope with an atmospheric opening marked by ominous, clean-toned guitar melodies, ethereal harmonics and grandiose keys. It's a near two-minute buildup that breaks free with a speedy riff from Schaffer and Kürsch, who could sing names and numbers out of a phonebook and make it sound majestic, asserts control over the grandiose narrative.
"'Diabolic' for sure is a musical statement and its message is very clear and precise: we take no prisoners! We had a hard time figuring out a proper opener to III, but when 'Diabolic' took shape, we realized it was the perfect introduction to the album," exclaimed the singer.
Schaffer further commented, "This song is a sequel to 'Heaven Denies' and it is dark, heavy, vicious, melodic and totally atmospheric — everything I love about songwriting and making records in eight minutes! 'Diabolic' has the right attitude to make a strong statement as the first song that people will hear after 15 years!"
Watch the video for "Diabolic" below.
III, the forthcoming record from Demons & Wizards, will be released on Feb. 21, bringing 65-minutes of epic power metal might across its 11 tracks. Pre-order the album here and view the artwork and track listing beneath the music video.
Demons & Wizards, "Diabolic" Music Video
Demons & Wizards, III Album Art + Track Listing
01. "Diabolic"
02. "Invincible"
03. "Wolves in Winter"
04. "Final Warning"
05. "Timeless Spirit"
06. "Dark Side of Her Majesty"
07. "Midas Disease"
08. "New Dawn"
09. "Universal Truth"
10. "Split"
11. "Children of Cain"
Top 25 Power Metal Albums of All Time