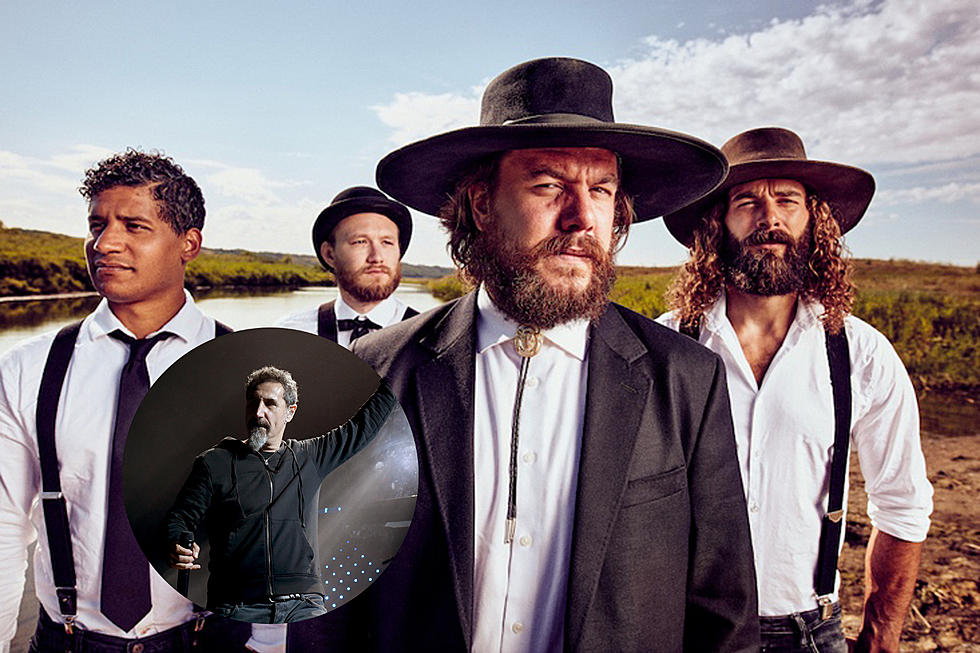 Hear a Chaotic Bluegrass Version of System of a Down's 'Chop Suey'
Six Shooter Records / Kevin Winter, Getty Images
Wake up! It's time to give System of a Down's "Chop Suey" a little shakeup, and bluegrass outfit The Dead South are just the band to do it.
The band has a two-part covers EP en route with their take on the System of a Down classic turning up as a pivotal piece in the second part of their Easy Listening for Jerks sets. While you've heard the song many times prior, it takes on a different feel with the plucking banjo, mandolin, cello and guitar. But, as seen in the video below, just because it's bluegrass doesn't mean it's any less chaotic.
For their covers sets, the band shows off some of their folk influences on Easy Listening for Jerks, Part I and gives them a more contemporary edge, while the second set of covers leans heavier taking influence from the band's own pre-show playlist. "Chop Suey" lines up with covers from CKY, Misfits, The Doors and more on Easy Listening for Jerks, Part II.
If you like what you hear, both covers EPs are set for release tomorrow (March 4) and you can pick up Part I here and Part !! here. And if you want to check out other cool, weird and wild covers of "Chop Suey," head here.
Having sparked initial interest through YouTube, the foursome have since graduated to club shows and larger venues. The band has a few dates in the U.K. and France over the next two months before venturing stateside. See all of their scheduled shows listed below and get ticketing info here.
The Dead South, "Chop Suey" (System of a Down Cover)
The Dead South, Easy Listening for Jerks Part I Artwork + Track Listing
1. Keep On The Sunny Side
2. Pallet On The Floor
3. Will The Circle Be Unbroken
4. Flint Hill Special
5. You Are My Sunshine
6. Matterhorn
The Dead South, Easy Listening for Jerks Part II Artwork + Track Listing
1. Yahoos and Triangles (Intro)
2. People Are Strange
3. Chop Suey
4. We Used To Vacation
5. Help Me Scrape The Mucus Off My Brain
6. Saturday Night
7. 96 Quite Bitter Beings
The Dead South 2022 Tour Dates
March 18 - London, U.K. @ Shepherds Bush Empire
March 19 - Manchester, U.K. @ Albert Hall
April 11 - Paris, France @ La Cigale
April 12 - Strasbourg, France @ La Laiterie
April 15 - Lyon, France @ Ninkasi Kao
April 19 - Toulouse, France @ Le Metronum
May 11 - St. Petersburg, Fla. @ Jannus Live
May 12 - Orlando, Fla. @ House of Blues
May 13 - Atlanta, Ga. @ Buckhead Theatre
May 14 - Charlotte, N.C. @ Fillmore
May 15 - Raleigh, N.C. @ The Ritz
May 17 - Richmond, Va. @ The National
May 18 - Boston, Mass. @ House of Blues
May 19 - Ithaca, N.Y. @ State Theatre
May 20 - Philadelphia, Pa. @ Fillmore
May 21 - New York, N.Y. @ Irving Plaza
June 19 - Tunbridge Wells, U.K. @ Black Deer Festival
June 21 - Cambridge, U.K. @ Cambridge Junction
June 22 - Coventry, U.K. @ Empire Coventry
June 23 - Cardiff, U.K. @ Tramshed
Best Rock + Metal Covers of 2021
Fresh takes on older favorites.