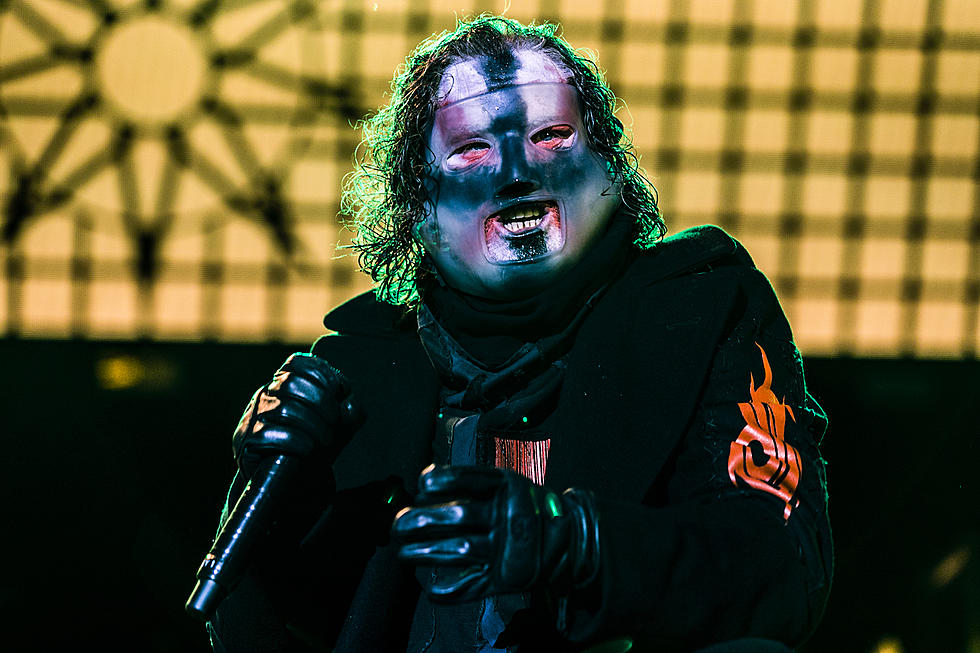 Corey Taylor: Slipknot Bring Diverse Tour Lineup to Help 'Pass the Torch'
Matt Stasi, Loudwire
Slipknot's Corey Taylor was the latest guest on Full Metal Jackie's weekend radio program as the release of We Are Not Your Kind draws near. The singer offered insight into the band's brotherhood mentality and how their new members fit that mold. This environment extends to the band's fans as Taylor preaches a code of unity among the Maggots.
With such an enormous platform, Taylor says Slipknot feel the responsibility to foster a strong metal community, invited a diverse crop of a bands to join their Knotfest Roadshow this summer.
Read the full chat with Corey Taylor below.
Slipknot have always been portrayed as a brotherhood more than a band. In what ways to new band members become fully integrated into that bond?
I mean, it comes from the camaraderie of just getting onstage and doing it. They were chosen for two reasons. One, their talent obviously and two, because of their belief in what we're doing.
We've always tried to fight off all the cliches and all the anchors of alternative thought when it comes to things like heavy music and things like that. We would have fought long and hard to achieve things that nobody could have ever expected from an extreme band like us.
So when we find like-minded people and they join and they get it the way we do, that immediately creates a band.
Slipknot recently revealed new masks. How much does that reconnect you, Corey, to being a kid who anticipated bands like Motley Crüe and KISS revealing their new looks?
Oh, it's great. I can remember when I was growing up, when you didn't have cable, you had the rock magazines. So you were constantly scouring them for new photos, new updates, you'd wait for the new music but you would also get the new imagery first and for me, that would get you even more excited.
Before the internet, there was word of mouth and that would keep you going until the first show or the first single or anything like that. So, I can remember waiting and waiting and waiting to see new images of Metallica or Mötley Crüe, it was the insane anticipation that kept you going till you actually heard the music. And I think that's kind of reflected in what we do.
Life usually dictates art. What does We Are Not Your Kind reflect about your life?
We Are Not Your Kind is me kind of putting my foot down as far as the divisiveness not only just the culture right now but the world at large. Everyone is so at odds with each other. Everyone is so quick to look at each other as an enemy without trying to find common ground. For our kids, for our fans, that can really be a stressful, daunting, dangerous time. It's very dangerous for people to be different these days. I will not have it. I grew up different.
I know the pain of having to deal with being treated differently and for me, it's one of those rare cases where I actually use my position in life to make a stand and say, 'Guess what? It doesn't matter who you are, where you come from, what you look like, what color your skin is, who you love, what you believe — we are a family because of this love for music that we have.'
And We Are Not Your Kind represents that gathering of people together and then turning our backs towards the rest of the world and saying 'We're not going to let your illness, your hate, permeate us. We are not your kind. You will never be ours.'
Slipknot are joined by Volbeat, Gojira, and Behemoth on the Knotfest Roadshow tour this summer. What makes this lineup the perfect balance of bands for a summertime metal show?
I think it's great because I feel like, especially in the [United] States, it's never been represented before. We're talking about four corners of metal and rock right now. Obviously, Behemoth have that black metal, Gojira kind of brings in that prog metal, Volbeat has such a distinct European metal defined to them. Then there's us, it's just Slipknot. We kind of do it all.
To me, I feel like it's different. It's a representation of just how popular metal is despite what the critics and the popular people want to say. It's us basically making a stand and saying, 'We can bring something heavy out like this and it will appeal to thousands of fans across the country.'
For me, that is the best representation of what we do. It's really special and it's also passing the torch on. It's support for a band that does things completely different but at the same time at their core, they're very, very vital bands.
We have always tried to help the next generation to get to a point where they can take over and they can do it. Because that's what you do - that's how metal stays alive is passing the baton back. That's what we're trying to do.
The first Slipknot tour was Ozzfest 1999, 20 years ago. Now looking back, how does what you did on that tour still define you today?
The work ethic, basically is still there. None of us are as young as we used to be, [laughs] I can remember waking up every morning and scavenging for food. We lived off of cans of tuna fish and a giant bag of goldfish crackers that someone had just left in our bus. I mean, it was the size of a pillow - so we lived off of that for about a month.
It was ridiculous, but we didn't care. We didn't care about being tired. We didn't care about the travel, we didn't care about anything other than doing it. We had waited our whole lives for this shot and when the opportunity came, we knew that it didn't stop with that. We had to earn it all, and that's still the way it is to this day.
A lot of people think that when they get signed, that's the end of the work - other people are going to do it for you. That's not the way it is at all. That's just the starting mark. You have to fight through and you have to be willing to do whatever it takes to achieve a dream. That work ethic will always be the same, as long as this band is this band. That's something I'm very proud of.
Let's talk about "Unsainted." When that video came out, it got 4.7 million views in just one day, which is so incredible. What's the most surreal thing about knowing so many people are watching you?
Just that it's been 20 years and it just keeps getting bigger and bigger. I mean, that to me - I don't know if its surreal, but it's just a pleasant surprise. Such a wonderful feeling to know that the anticipation is still there - the joy that we bring to our fans is still there.
You appreciate the work, the art - the fact that they recognize that we put so much work and effort into this. Then the reciprocity that comes from the fans embracing the new music. You can say that about a lot of other bands and I think we're extremely lucky. Talent only gets you so far but we're also very lucky to have the best fanbase in the world. It just keeps getting bigger, so, to me that is the sweetest taste.
Thanks to Corey Taylor for the interview. Slipknot's 'We Are Not Your Kind' comes out Aug. 9 on Roadrunner and can be ordered here. The Knotfest Roadshow is underway, featuring Volbeat, Gojira and Behemoth, and the remaining dates can be seen below. For tickets, head to this location.
Slipknot, Volbeat, Gojira + Behemoth 2019 Tour Dates
Thu Aug 1 - Salt Lake City, UT - USANA Amphitheatre
Sat Aug 3 - Albuquerque, NM - Isleta Amphitheater
Sun Aug 4 - Phoenix, AZ - Ak-Chin Pavilion
Tue Aug 6 - Denver, CO - Pepsi Center
Thu Aug 8 - Lincoln, NE - Pinnacle Bank Arena
Sat Aug 10 - Des Moines, IA - Iowa State Fairgrounds*
Sun Aug 11 - Tinley Park, IL - Hollywood Casino Amphitheatre
Mon Aug 12 - Clarkston, MI - DTE Energy Music Theatre
Wed Aug 14 - Virginia Beach, VA - Veterans United Home Loans Amphitheater
Fri Aug 16 - Noblesville, IN - Ruoff Home Mortgage Music Center
Sat Aug 17 - Bonner Springs, KS - Providence Medical Center Amphitheater
Sun Aug 18 - Maryland Heights, MO - Hollywood Casino Amphitheatre
Tue Aug 20 - Toronto, ON - Budweiser Stage
Wed Aug 21 - Saratoga Springs, NY - Saratoga Performing Arts Center
Fri Aug 23 - Burgettstown, PA - KeyBank Pavilion
Sat Aug 24 - Scranton, PA - The Pavilion at Montage Mountain
Sun Aug 25 - Darien Center, NY - Darien Lake Amphitheater
Tue Aug 27 - Mansfield, MA – The Xfinity Center
Wed Aug 28 - Wantagh, NY - Northwell Health at Jones Beach Theater
Fri Aug 30 - Holmdel, NJ - PNC Bank Arts Center
Sat Aug 31 - Camden, NJ - BB&T Pavilion
Sun Sep 1 - Bristow, VA - Jiffy Lube Live
Tue Sep 3 - Alpharetta, GA - Ameris Bank Amphitheatre
Wed Sep 4 - Tampa, FL - MIDFLORIDA Credit Union Amphitheatre
Fri Sep 6 - Austin, TX - Austin360 Amphitheater at Circuit of The Americas
Sat Sep 7 - Dallas, TX - Dos Equis Pavilion
Sun Sep 8 - The Woodlands, TX - The Cynthia Woods Mitchell Pavilion presented by Huntsman
*Iowa State Fair – Slipknot & Gojira only
The Evolution of Slipknot's Terrifying Masks