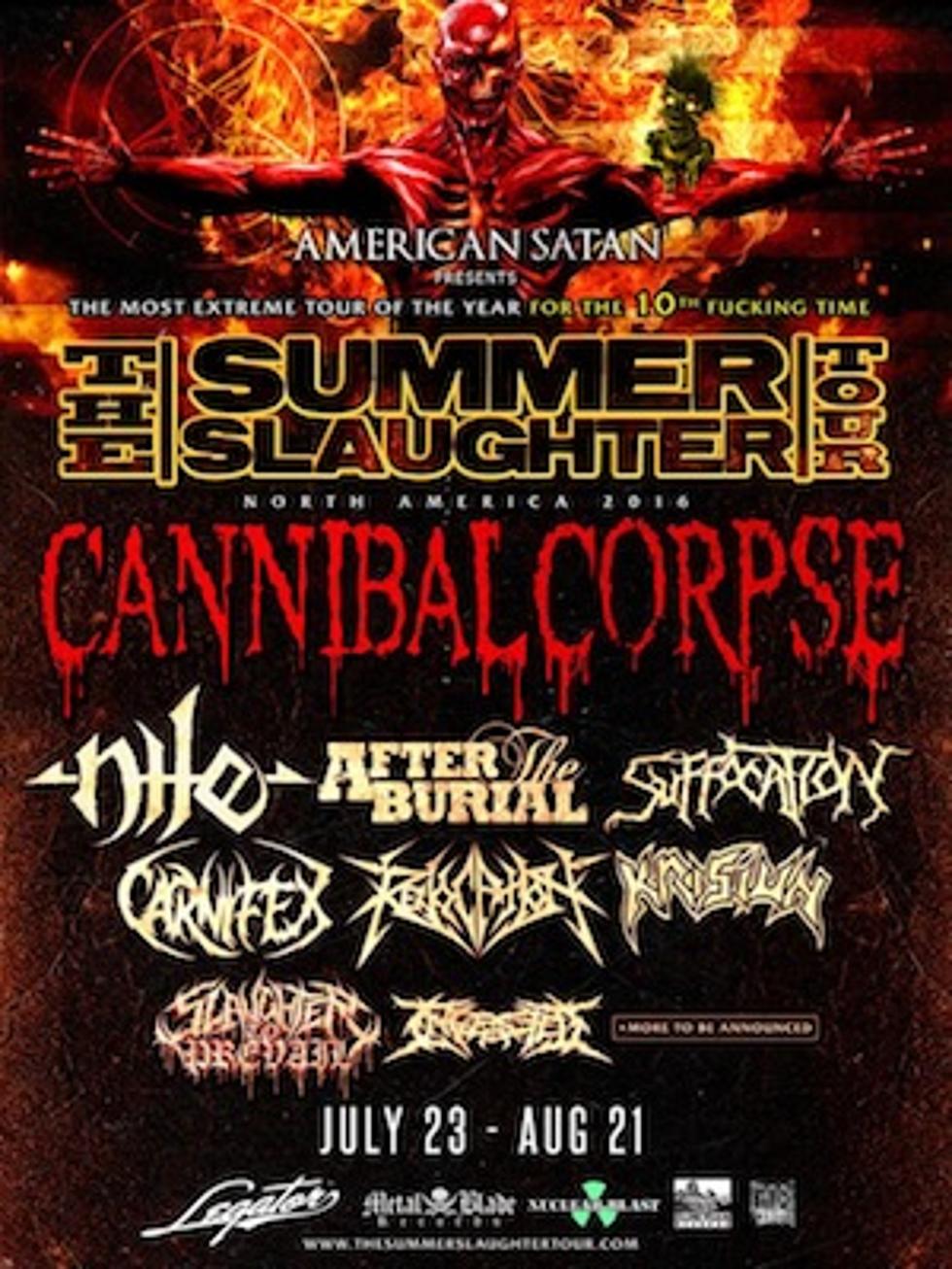 Cannibal Corpse, Nile, After the Burial Lead 2016 Summer Slaughter Lineup
Summer Slaughter
After weeks of not so subtle hints, the 2016 Summer Slaughter lineup has been revealed! Headlining the tenth installment of the summer tour will be death metal mainstays Cannibal Corpse, reprising their role from the 2012 edition.
In the weeks leading up to the announcement, the Summer Slaughter Facebook page dropped song title hints like "kill or become and cast down the heretic to get lost in the static" and "infecting the crypts? lie to my face. dismantle the dictator... the great execution."
Cannibal Corpse have been on the road incessantly since the release of 2014's A Skeletal Domain while Nile are promoting 2015's What Should Not Be Unearthed and After the Burial recently released Dig Deep. Suffocation's latest came with 2013's self-titled album, Carnifex will release Slow Death in August, Revocation are expected to release their sixth album later this year, Krisiun are supporting last year's Forged in Fury, Slaughter to Prevail are tracking their forthcoming album and Ingested released The Architect of Exctinction in 2015.
After the Burial were booked to perform last year's Summer Slaughter tour, but dropped off following the tragic death of their guitarist Justin Lowe. The band revealed he was in a "broken state of mind" surrounding the bizarre events before his passing.
Top 25 Extreme Metal Albums of All Time
Cannibal Corpse's Paul Mazurkiewicz Plays 'Wikipedia: Fact or Fiction?'