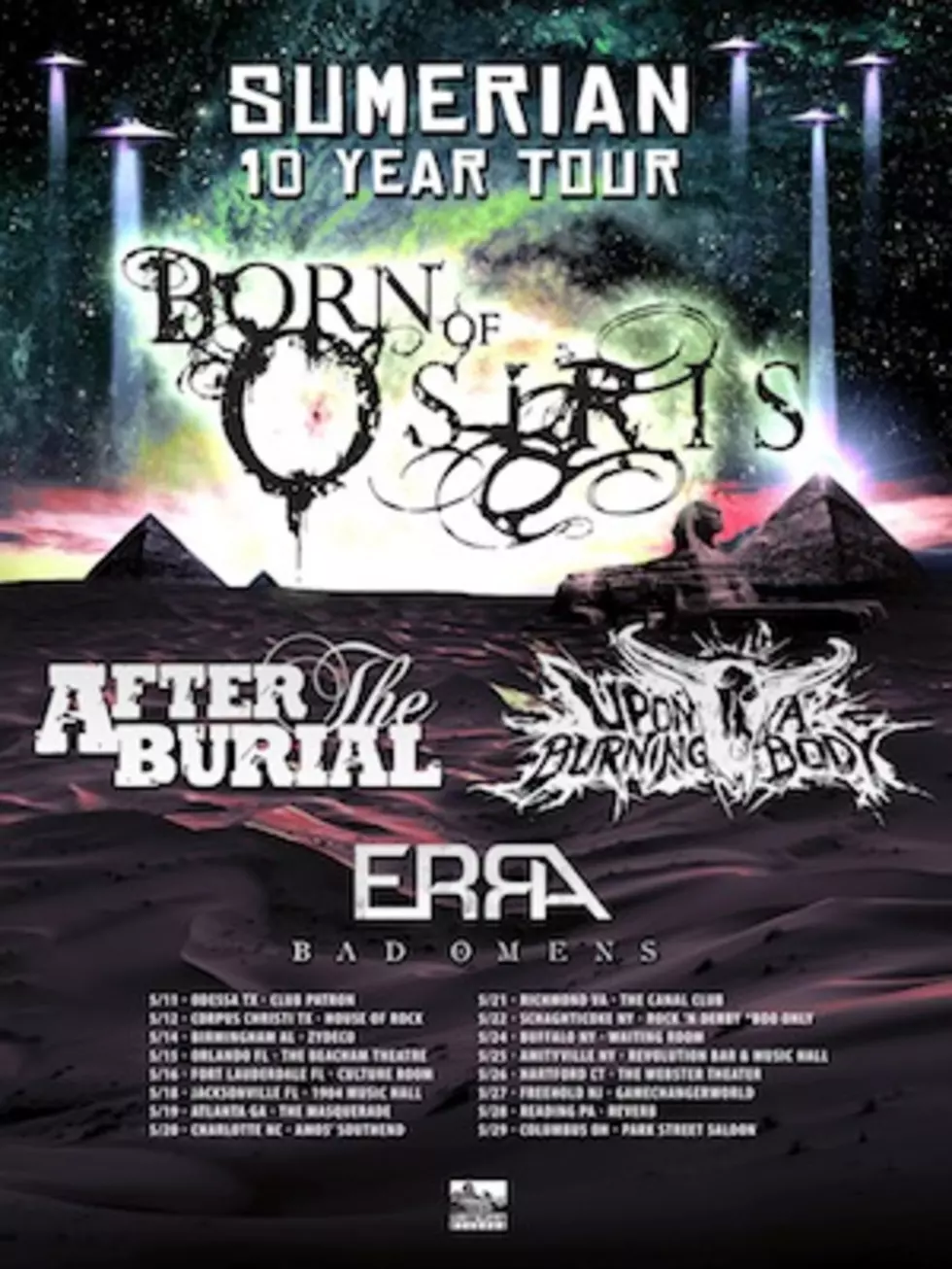 Born of Osiris, After the Burial Lead Second Wave of Sumerian Records 10th Anniversary 2016 Tour
Sumerian Records
Sumerian Records is celebrating its 10th anniversary with one commemorative tour already wrapped up. With ample recovery time allotted, it's time to now pick it up for round two. Progressive deathcore heavyweights Born of Osiris will once again lead the charge and bring along After the Burial, ERRA and Bad Omens again as well with Upon a Burning Body taking Veil of Maya's spot from the first wave lineup.
The trek is slated to kick off on May 11 in Odessa, Texas and will work its way towards the East Coast moving from Florida up as far north as Connecticut before heading westward and finishing in Columbus, Ohio on May 29.
Born of Osiris will be touring in support of their fourth full length offering, Soul Sphere, which once again showcased the band's growing influences. The progressive influences were still felt, though melded with more electronic vibes, giving a push and pull to their ever-evolving sound. Dig Deep is the latest record from After the Burial, securing the band's first Billboard 200 chart position, landing at No. 50.
Photos from the first round of the Sumerian Records 10th anniversary tour can be seen below.
Born of Osiris / After the Burial / Upon a Burning Body / ERRA / Bad Omens 2016 Tour Dates
5/11 — Odessa, Texas @ Club Patron
5/12 — Corpus Christi, Texas @ House of Rock
5/14 — Birmingham, Ala. @ Zydeco
5/15 — Orlando, Fla. @ The Beacham Theatre
5/16 — Fort Lauderdale, Fla. @ Culture Room
5/18 — Jacksonville, Fla. @ 1904 Music Hall
5/19 — Atlanta, Ga. @ The Masquerade
5/20 — Charlotte, N.C. @ Amos' Southend
5/21 — Richmond, Va. @ The Canal Club
5/22 — Schaghticoke, N.Y. @ Rock 'N Derby (Born Of Osiris only)
5/24 — Buffalo, N.Y. @ Waiting Room
5/25 — Amityville, N.Y. @ Revolution Bar & Music Hall
5/26 — Hartford, Ct. @ The Webster Theater
5/27 — Freehold, N.J. @ GameChangerWorld
5/28 — Reading, Pa. @ Reverb
5/29 — Columbus, Ohio @ Park Street Saloon
Sumerian Records 10th Anniversary Photos From New York City, March 2016