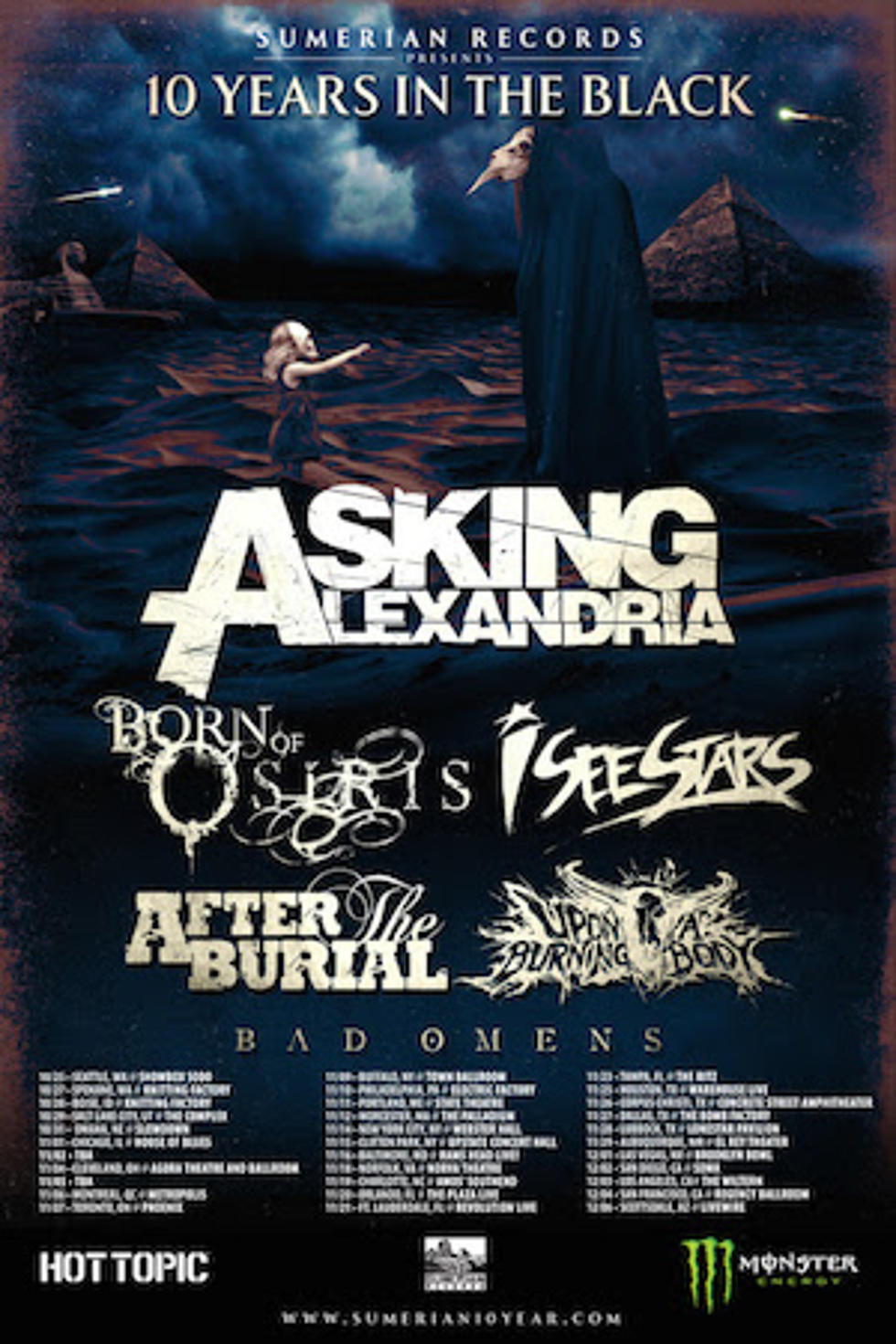 Asking Alexandria + Born of Osiris Lead '10 Years in the Black' Sumerian Records 10th Anniversary Tour
Sumerian Records
It's time to wish a happy 10th anniversary to one of metal's great labels. Some of the acts that helped establish Sumerian Records as a major player will unite this fall on the "10 Years in the Black" tour, celebrating the label's decade in business.
"I can't remember the last time I was this excited for a tour," Asking Alexandria guitarist Ben Bruce said. "Not only is this our first true North American headlining tour in two years, as well as our first real U.S. headliner with Denis [Stoff] as our vocalist, but this is also a tour celebrating the incredible 10 year journey of Sumerian Records. We couldn't be more proud to headline such a pivotal tour package and to celebrate the music Sumerian has released. The tour will include our biggest production to date and the first trek out in support of our new album, The Black. This is going to be something incredibly special."
"To see the celebration of a decade of Sumerian culminate with this tour is a true reflection of the communal spirit and vision that this label was built upon," said Sumerian Records Founder Ash Avildsen. "Fans will get to see five headliners all go out together, which is very rare these days because of tour politics, egos, money and everything else that gets in the way of giving music lovers an unforgettable line-up. The fact that these five bands are sharing the stage together and still bringing an opening act to kick off the show makes this a truly special tour. I comment them all. Stay tuned for for lots of upcoming announcements about different activities for bands and fans to interact at at these shows that go beyond just watching them perform on stage. Mark my words: This will be the most progressive and interactive tour we have ever done. See you on the road."
Asking Alexandria are currently touring in support of their album, The Black, which has spawned several singles and is the first disc to feature new vocalist Denis Stoff. Born of Osiris released their Soul Sphere album in the fall of 2015 and have enjoyed some love for the songs "Throw Me in the Jungle" and "Resilience."
I See Stars just released their new album, Treehouse, while After the Burial are also still fairly early into promotion of their 2016 release, Dig Deep. Upon a Burning Body's most recent release was their 2014 effort, The World Is My Enemy Now, and Bad Omens will be issuing their self-titled Sumerian debut on Aug. 19. See all of the "10 Years in the Black" tour dates below.
10 Years In The Black Tour:
10/25 -- Seattle, Wash. -- Showbox Sodo
10/27 -- Spokane, Wash. -- Knitting Factory
10/28 -- Boise, Idaho -- Knitting Factory
10/29 -- Salt Lake City, Utah -- The Complex
10/31 -- Omaha, Neb. -- Slowdown
11/1 -- Chicago, Ill. -- House of Blues
11/4 -- Cleveland, Ohio -- Agora Theatre
11/6 -- Montreal, Quebec -- Metropolis
11/7 -- Toronto, Ontario -- Phoenix
11/9 -- Buffalo, N.Y. -- Town Ballroom
11/10 -- Philadelphia, Pa. -- The Electric Factory
11/11 -- Portland, Maine -- State Theatre
11/12 -- Worcester, Maine -- The Palladium
11/14 -- New York, N.Y. -- Webster Hall
11/15 -- Clifton Park, N.Y. -- Upstate Concert Hall
11/16 -- Baltimore, Md. -- Ram's Head Live
11/18 -- Norfolk, Va. -- NorVa Theatre
11/19 -- Charlotte, N.C. -- Amos Southend
11/20 -- Orlando, Fla. -- The Plaza Live
11/21 -- Ft. Lauderdale, Fla. -- Revolution Live
11/23 -- Tampa, Fla. -- The Ritz
11/25 -- Houston, Texas -- Warehouse Live
11/26 -- Corpus Christi, Texas -- Concrete Street Amphitheater
11/27 -- Dallas, Texas -- The Bomb Factory
11/28 -- Lubbock, Texas -- Lonestar Pavilion
11/29 -- Albuquerque, N.M. -- El Rey Theater
12/1 -- Las Vegas, Nev. -- Brooklyn Bowl
12/2 -- San Diego, Calif. -- SOMA
12/3 -- Los Angeles, Calif. -- The Wiltern
12/4 -- San Francisco, Calif. -- The Regency Ballroom
12/6 -- Scottsdale, Ariz. -- Livewire
Asking Alexandria Play Wikipedia: Fact or Fiction?
Ben Bruce Reads Actual Fan Fiction