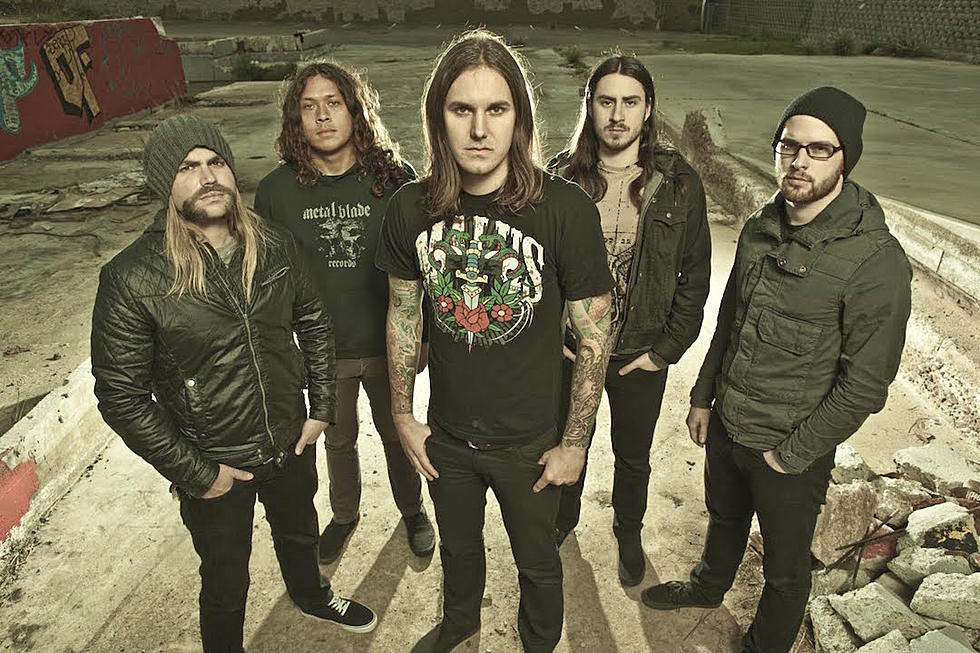 As I Lay Dying Announce Comeback Tour, But Not in U.S.
Metal Blade
As I Lay Dying have announced their first tour in over five years, but it isn't in their homeland of the United States. Instead, they will return to the road in Europe. The announcement came without any context such as ticket information or future plans. You can check out a full list of dates and locations for the trek, which will begin on Dec. 1, below.
In June As I Lay Dying performed their first comeback show at Soma Sidestage in San Diego, California. The band's "classic" lineup of vocalist Tim Lambesis, guitarists Nick Hipa and Phil Sgrosso, bassist Josh Gilbert and drummer Jordan Mancino was present. This was their first time on stage as As I Lay Dying since 2013
The band's return has been shrouded in controversy, as Lambesis was incarcerated in 2014 for attempting to hire a hitman to kill his estranged wife. Ultimately, he served three years of his six-year sentence and was released near the beginning of 2017. Earlier this month As I Lay Dying released their first new song in nearly six years, titled "My Own Grave." The accompanying music video confirmed the return of their "classic" lineup.
While Lambesis served his time, the rest of the band's members formed the group Wovenwar, issuing their self-titled debut in 2014, followed by Honor Is Dead two years later. Both albums were released through Metal Blade, the label home of every As I Lay Dying record starting with Frail Words Collapse.
We penned an op-ed discussing the moral implications and dilemmas behind the entire situation. We also compiled a list of musicians who have come forth with comments of their own. The band recently released a 30-minute tell-all video that details the specifics around how their return came together.
Dec. 1 - Bochum, Germany @ Matrix
Dec. 2 - Eindhoven, Netherlands @ Dynamo
Dec. 3 - Antwerp, Belgium @ Zappa
Dec. 4 - Paris, France @ La Maroquinerie
Dec. 5 - Aarau, Switzerland @ Kiff
Dec. 6 - Bologna, Italy @ Locomotive Club
Dec. 7 - Wien, Austria @ SiMM City
Dec. 8 - München, Germany @ Backstage
Dec. 9 - Karlsruhe, Germany @ Substage
Dec. 10 - Prague, Czech Republic @ Futurum
Dec. 11 - Warsaw, Poland @ Hydrozagadka
Dec. 12 - Berlin, Germany @ Musik & Frieden
Dec. 13 - Hamburg, Germany @ Logo
Dec. 14 - Hannover, Germany @ Musikzentrum
Dec. 15 - Chemnitz, Germany @ AJZ
See As I Lay Dying in the 50 Best Metal Bands Who Released Their First Album in the 21st Century
10 Shocking Crimes in Rock + Metal History