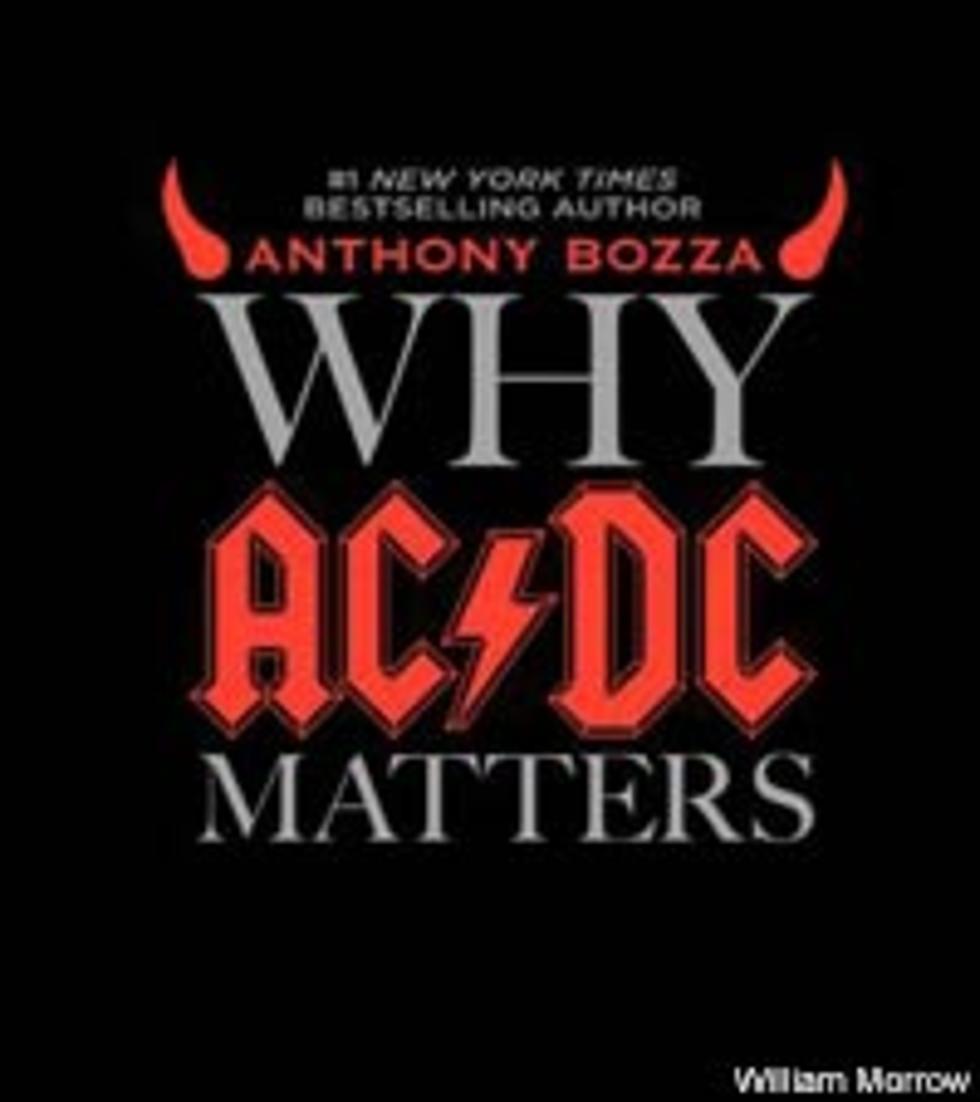 Anthony Bozza Tells Us 'Why AC/DC Matters'
Rolling Stone scribe turned biographer Anthony Bozza admits that when he first encountered AC/DC he was frightened.
"I remember the day I first saw their album cover and stuff," Bozza told Noisecreep. "My neighbor across the street and I snuck into his older brother's room. He had a black light version of the 'Highway to Hell' cover. He had the Led Zeppelin Swan Song logo and Pink Floyd poster. We were younger. I was still playing with my Star Wars figures and Batman and stuff.
"I wasn't sure what all that stuff meant. All those posters kind of scared me. I was sort of into it, though. It was like seeing my first horror movie; I was really into being scared. I remembered, I was almost terrified to find out what they sounded like. Then when I did hear the shrieking and the guitars, I was totally scared but totally intrigued. I'd say it started pretty early and it never let up."
His fascination with AC/DC led to him authoring the book 'Why AC/DC Matters,' which hit stores Oct. 13. In this new title, Bozza -- a New York Times best-selling author -- examines why AC/DC has been undervalued and unappreciated by mainstream rock music critics, despite selling more records in the United States than Michael Jackson, Bruce Springsteen, Aerosmith and the Rolling Stones. The book is full of fascinating stories and insights from musicians, fans, music scholars and the author.
Bozza also penned 'Whatever You Say I Am: The Life and Times of Eminem,' and co-wrote comedian Artie Lange's 'Too Fat to Fish,' 'Tommyland,' the autobiography of Mötley Crüe drummer Tommy Lee, and 'Slash,' the autobiography of the infamous Guns 'N Roses and Velvet Revolver guitarist. But he said that AC/DC was a fascinating subject.
"The 'Why blank Matters' format, a lot of other people have done that, not necessarily in music," Bozza said. "There's books out there 'Why Sinatra Matters,' 'Why New York City Matters.' I always felt like I already knew why those things mattered. I felt like the subjects were obvious."
Bozza, who also recently released comedian Tracy Morgan's biography, 'I Am the New Black,' said when he worked for Rolling Stone, colleagues wouldn't take him seriously when he dubbed AC/DC legendary.
"I was definitely in a lot of meetings where we'd be discussing whatever Rolling Stone's next greatest blanks in rock 'n' roll issue was going to be," Bozza said. "No one ever brought up AC/DC. I sort of talked about them. It always seemed like, 'Oh, this kid doesn't know what he's talking about.' So I always totally disagreed with it. I think they're one of the most important classic rock bands that we've got. So now that I'm able to explore that and write it myself, I decided to do it.
"I'm sure you know, there's less music magazines than ever these days, with the recession. And just publishing is really changing. There are less opportunities to do that kind of writing in print to like a large audience. Music criticism certainly is out there on the internet. I'm not saying it's dead by any means. There's seems to be less opportunity to passionately argue a point, especially for 150 pages. It was really great. It was a really great exercise."
Bozza hopes to parlay this experience into writing the official biography of AC/DC. "Another reason why I did the book is I've been after them for a while," he said. "Ever since I got on the map as a biographer and a co-writer, I've been after them to write their official 30-year history.
"They've always said, respectfully, 'No thanks. We're not interested right now.' I don't know if they'll ever be interested. When they're not being AC/DC, they're being pretty private guys. I don't think they want to do the history. They probably don't want the attention. After a few years of hearing 'no' a lot, I just decided, 'Well I'm going to do this book because it's the next best thing.' I am secretly hoping that, of course, after we send them a bunch of copies, they'll say, 'This guy's all right. Let's do this book after all.'"