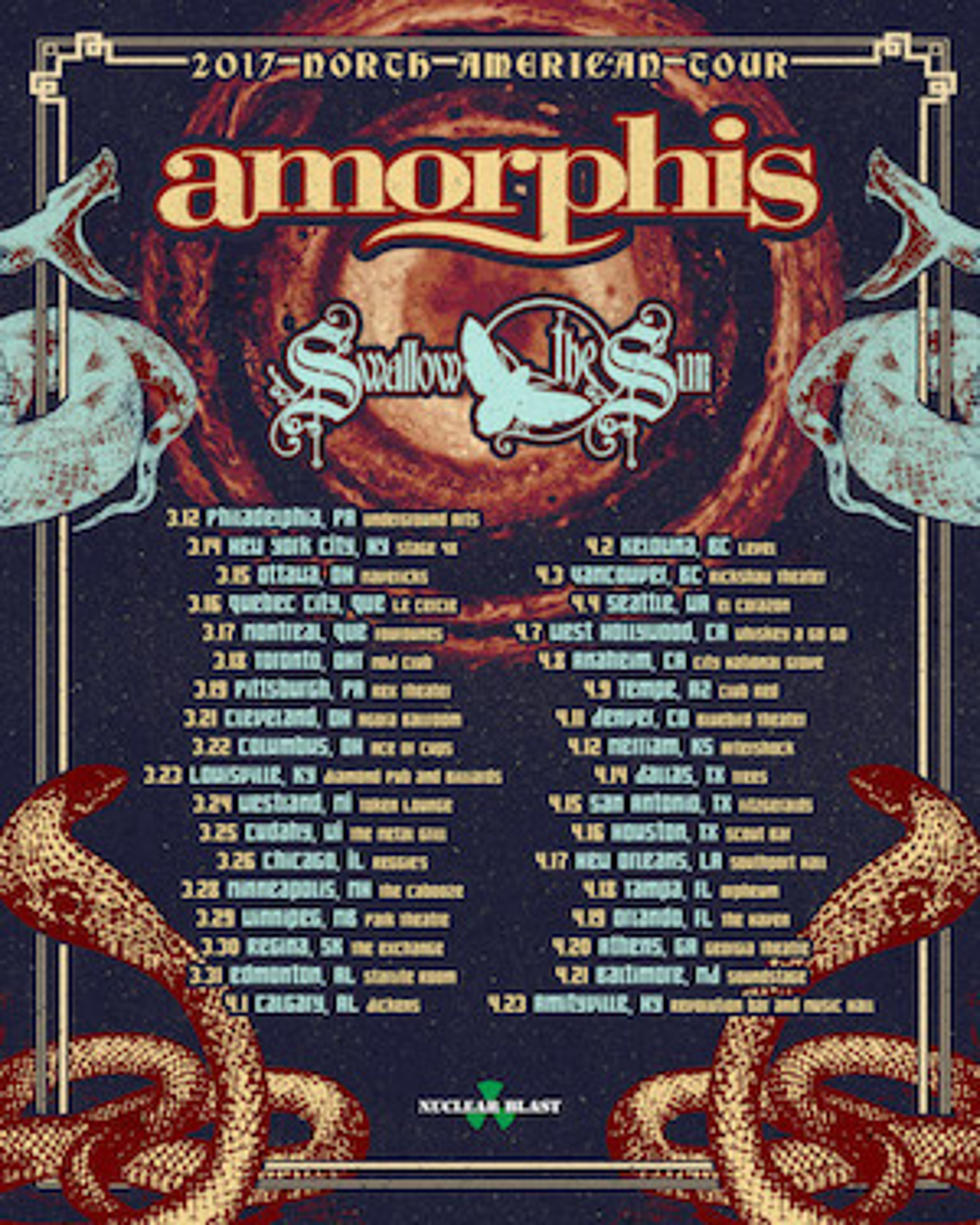 Amorphis Announce 2017 North American Tour With Swallow the Sun
Nuclear Blast
Amorphis are coming back to North America! The melodic death metal giants will hit the road with Swallow the Sun in early 2017.
It's been nearly a decade since Amorphis embarked on a full-scale North American tour. Since 2008, Amorphis have only performed six gigs in the United States and haven't visited Canada at all, so fans this side of the globe should be foaming at the mouth to see the Finnish metallers.
The tour's five opening East Coast dates will feature Overkill, Nile and Swallow the Sun. After that, Amorphis and Swallow the Sun will traverse the rest of North America on their own.
Amorphis guitarist Esa Holopainen says:
It's been a long time since we toured in North America and Canada. To be honest, way too long and at some point we thought we might never be back. In show business, things are not that simple and no matter how much Amorphis would like to tour, or play shows in different territories, usually it just doesn't make sense.

Now it makes sense and we really wanted to make this to happen, after receiving so much positive feedback from US fans. As it has been quite a while since the US and Canadian fans have seen us, we will cover a lot of material from the latest Amorphis albums as well as play classics from 'Tales From The Thousand Lakes' and 'Elegy,' which were groundbreaking albums to us and many fans.

It's a great pleasure to have our country fellows Swallow the Sun to join the tour as well. A great band. So there's plenty of Finnish melancholy on stage and not that many major chords are going to be played. Still we arrive with happy hearts and will rock across US like never before. Shine on brothers and sisters!
Amorphis are touring in support of their awesome 2015 release, Under the Red Cloud, while Swallow the Sun unleashed a massive triple album — Songs From the North I, II & III — late last year. Check out the full list of tour dates below!
Amorphis w/ Overkill, Nile, Swallow the Sun:
03/06 - Charlotte, N.C. - The Fillmore
03/07 - Norfolk, Va. - The NorVa
03/08 - Washington, D.C. - Howard Theatre
03/09 - Clifton Park, N.Y. - Upstate Concert Hall
03/10 - Providence, R.I. - Firehouse 13
Amorphis w/ Swallow the Sun:
03/12 - Philadelphia, Pa. - Underground Arts
03/14 - New York CIty, N.Y. - Stage 48
03/15 - Ottawa, Ontario - Mavericks
03/16 - Quebec City, Quebec - Le Cercle
03/17 - Montreal, Quebec - FouFounes
03/18 - Toronto, Ontario - MOD Club
03/19 - Pittsburgh, Pa. - Rex Theater
03/21 - Cleveland, Ohio - Agora Ballroom
03/22 - Columbus, Ohio - Ace of Cups
03/23 - Louisville, Ky. - Diamond Pub and Billiards
03/24 - Westland, Mich. - Token Lounge
03/25 - Cudahy, Wis. - The Metal Grill
03/26 - Chicago, Ill. - Reggie's
03/28 - Minneapolis, Minn. - The Cabooze
03/29 - Winnipeg, Manitoba - Park Theatre
03/30 - Regina, Saskatchewan - The Exchange
03/31 - Edmonton, Alberta - Starlite Room
04/01 - Calgary, Alberta - Dickens
04/02 - Kelowna, British Columbia - Level
04/03 - Vancouver, British Columbia - Rickshaw Theater
04/04 - Seattle, Wash. - El Corazon
04/07 - West Hollywood, Calif. - Whiskey a Go Go
04/08 - Anaheim, Calif. - City National Grove
04/09 - Tempe, Ariz. - Club Red
04/11 - Denver, Colo. - Bluebird Theater
04/12 - Merriam, Kansas - Aftershock
04/14 - Dallas, Texas - Trees
04/15 - San Antonio, Texas - Fitzgeralds
04/16 - Houston, Texas - Scout Bar
04/17 - New Orleans, La. - Southport Hall
04/18 - Tampa, Fla. - Orpheum
04/19 - Orlando, Fla. - The Haven
04/20 - Athens, Ga. - Georgia Theatre
04/21 - Baltimore, Md. - Soundstage
04/23 - Amityville, N.Y. - Revolution Bar and Music Hall
See Amorphis' Tomi Joutsen in 10 Vocalists Who Can Sing You to Sleep AND Scare You to Death