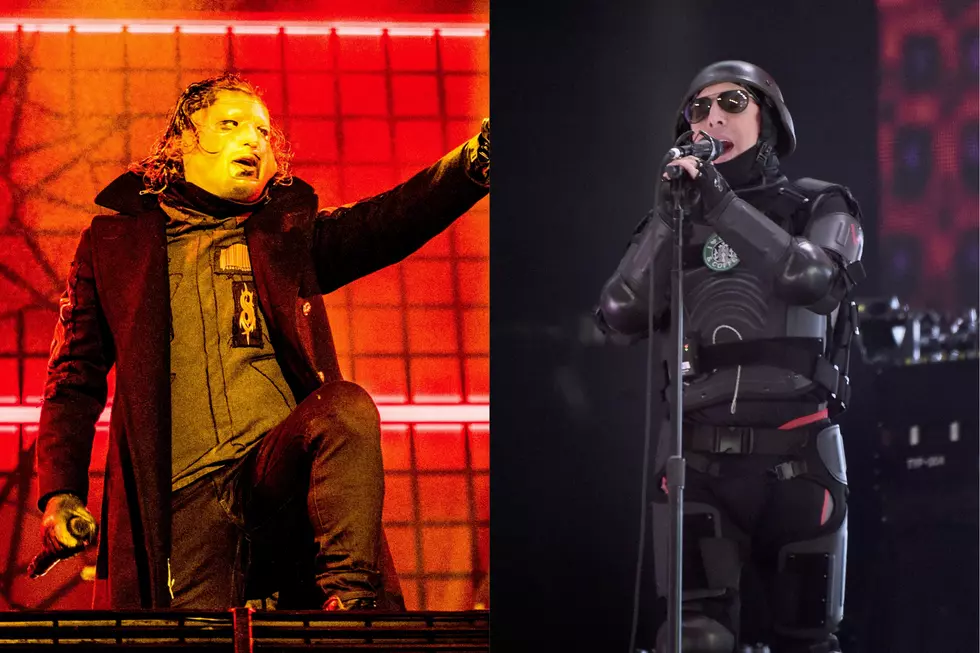 2019 Aftershock Festival Set Times Revealed
Ollie Millington / Steven Ferdman, Getty Images
Feel that? That rumble is the sound of people rushing to check out the scheduling for the 2019 Aftershock Festival. Organizers Danny Wimmer Presents have revealed the set times for the three-day music festival, and fans can now start plotting out their viewing over this massive rock weekend.
There are plenty of major rock acts to choose from, with Tool, Slipknot, Blink-182, Korn, Rob Zombie and the return of Staind highlighting the festival. In total, over 50 bands will play on three stages over the three days. It all takes place at Sacramento's Discovery Park the week of Oct. 11-13. The daily lineups with all of the set times can be seen below.
8:20PM - Slipknot
6:20PM - Lamb of God
4:45PM - Dropkick Murphys
3:25PM - I Prevail
2:05PM - Philip H. Anselmo & the Illegals
1:00PM - Poppy
7:15PM - Staind
5:30PM - Halestorm
4:05PM - Clutch
2:45PM - Beartooth
1:30PM - Motionless in White
12:30PM - DED
7:25PM - Sum 41
6:20PM - The Interrupters
4:50PM - Knocked Loose
3:30PM - Angel Du$t
2:10PM - The Pink Slips
1:00PM - Santa Cruz
8:50PM - Blink-182
6:45PM - Bring Me the Horizon
5:05PM - Stone Temple Pilots
3:40PM - Highly Suspect
2:30PM - Fishbone
1:30PM - Parlor Mob
12:30PM - Dead Posey
7:45PM - Rob Zombie
5:55PM - Marilyn Manson
4:20PM - Bad Religion
3:05PM - Ghostemane
2:00PM - Badflower
1:00PM - Sick Puppies
5:55PM - Fidlar
4:30PM - Andrew W.K>
3:10PM - Health
2:00PM - Ho99o9
1:00PM - Spirit Adrift
7:25PM - Tool
5:05PM - A Day to Remember
3:35PM - Gojira
2:25PM - The Crystal Method
1:25PM - BRKN Love
12:25PM - Blue Midnight
6:25PM - Korn
4:15PM - Chevelle
2:55PM - Babymetal
1:55PM - Falling in Reverse
12:55PM - Frank Carter and the Rattlesnakes
11:55AM - New Language
5:30PM - Deadland Ritual
4:15PM - Fu Manchu
3:00PM - Fire From the Gods
1:55PM - The Hu
12:55PM - Evan Konrad
A limited number of Aftershock VIP packages, general admission tickets, hotel packages and park & ride shuttle passes remain at the Aftershock Festival website. Attendees can also stay up to date via the Aftershock Mobile App, which is available via iOs and Android platforms.
There will also be an official Aftershock Pre-Party featuring Motionless in White with After the Burial and amplified by Heavy Grass on Thursday (Oct. 10) at 6PM at Ace of Spades in Sacramento. Tickets can be purchased here.
Fans can also look for an official Aftershock Afterparty featuring Frank Carter & the Rattlesnakes at Holy Diver in Sacramento on Sunday (Oct. 13) at 9PM, with tickets available here.
Best Metal Albums of 2019 ... So Far