Favorite Solider Song – Readers Poll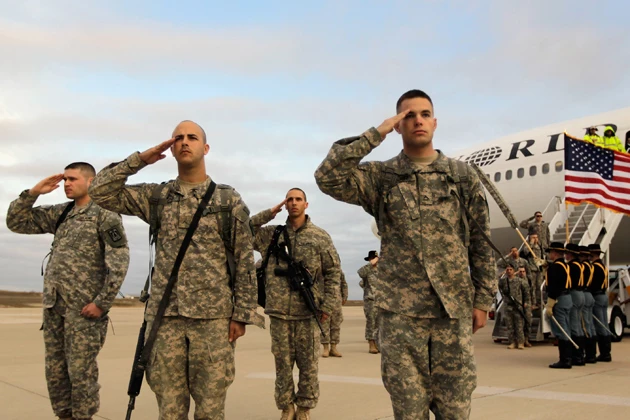 Noisecreep is sending our best thoughts and wishes to all past and present military personnel on Veterans Day! Today we celebrate those military men and women who have made great sacrifices for their country. And while this day comes around every year for us to honor the vets, there are a number of rockers who have gone a step further to either pay homage to those who serve their country or speak about some of the horrors that soldiers may go through. This Readers Poll asks you which soldier themed song is your favorite.
There are the classics — songs written by bands that have become huge hits. Alice in Chains' 'Rooster,' Iron Maiden's 'The Trooper,' Black Sabbath's 'War Pigs' and Metallica's 'One' come to mind. There's also more modern representations with Disturbed's 'Indestructible,' Drowning Pool's 'Soldiers,' Linkin Park's 'Castle of Glass,' Five Finger Death Punch's 'Far From Home' and Otherwise's 'Soldiers' all making the cut.
You can also dig a little deeper into band catalogs, where you'll find 3 Doors Down's 'Citizen Soldier,' Avenged Sevenfold's 'MIA,' Dropkick Murphys' 'Far Away Coast,' Guns N' Roses' 'Civil War,' Sammy Hagar's 'Remember the Heroes,' Nine Inch Nails' 'The Good Soldier,' Rise Against's 'Hero of War' and Theory of a Deadman's 'Wait for Me' all either offering blatant or more veiled songs about soldiers.
We've given you a number of options. Now you tell us which song about soldiers is your favorite. Vote in the Readers Poll below: