You Know You're a Metal Fan When …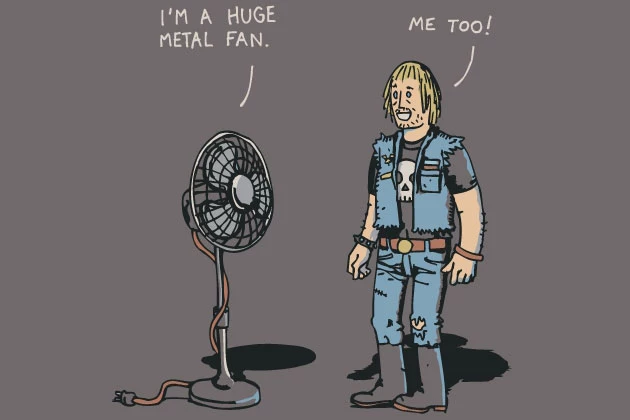 Ah yes, the metal fan — a complex soul whose actions can confuse those who do not take appreciation with the headbanging music genre. We've collected some of the most retweeted #Youknowyoureametalfan quotes from our own Twitter page as well as our friends at Loudwire.
For those who give metal fans funny looks, please let these quotes guide you to understanding the metalhead's DNA a little better. And for those of you who are already metal fans, see how many of these qualifiers apply to you.
You know you're a metalhead when you doodle band logos when you're bored. #youknowyoureametalfan

— Noisecreep (@noisecreep) August 3, 2013
You know you're a metal fan when you don't know why everyone's so worried about going to hell. #youknowyoureametalfan

— Noisecreep (@noisecreep) July 28, 2013
You know you're a metal fan when you constantly ruin family pics with devil horns, invisible orbs and middle fingers #Youknowyoureametalfan

— Loudwire (@Loudwire) July 19, 2013
You know you're a metal fan when you have to yell SLAYER! at the person wearing the Slayer shirt. #youknowyoureametalfan

— Noisecreep (@noisecreep) July 27, 2013
You know you're a metal fan when you intentionally pump 6.66 gallons of gas. #youknowyoureametalfan

— Loudwire (@Loudwire) July 26, 2013
You know you're a metal fan when all your shirts are band t-shirts. #youknowyoureametalfan

— Noisecreep (@noisecreep) July 23, 2013
You know you're a metal fan when you pray to Rob Halford on Sundays. @Judas_Priest_FC #youknowyoureametalfan

— Loudwire (@Loudwire) July 18, 2013
You know you're a metal fan when moshing is your medicine to get rid of stress. #youknowyoureametalfan

— Noisecreep (@noisecreep) July 20, 2013
You know you're a metal fan when you get all your political news from @DAVIDMDRAIMAN #youknowyoureametalfan

— Loudwire (@Loudwire) July 31, 2013
You know you're a metal fan when you imitate great drum solos on your steering wheel. #youknowyoureametalfan

— Noisecreep (@noisecreep) July 18, 2013
You know you're a metal fan when you no longer vomit at the sight of a @Cannibal Corpse album cover. #Youknowyoureametalfan

— Loudwire (@Loudwire) July 25, 2013