Serj Tankian, 'Left of Center' — Video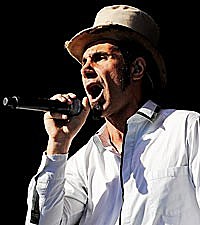 Serj Tankian, formerly of System of a Down, is quite the artisan. With all that he has accomplished in his musical career, the singer never stops seeking out news ways to do what he does best. He's fearless, actually. For his new album, 'Imperfect Harmonies,' Tankian didn't let anything get in the way of achieving his goals.
"Working with the Elect the Dead Symphony gave me a lot more confidence in using [an] orchestral palette," Tankian told Noisecreep. "I wanted to bring in other influences: electronic, rock, orchestral. I wanted to mix it up and make a new sound for myself. It was adventurous, and every record should be where you learn and ask, 'What are we going to do?'" Tankian also said he enjoys the liberating feeling of being the master of his own destiny as a solo artist.
%VIRTUAL-globalVideoEmbed-{"videoIds":"517721880″,"width":"456″,"height":"357″}%

As for that massive elephant in the room that no one talks about, Tankian did not shy away from questions about SOAD and whether the band is a dead issue at this point. "It's not annoying to be asked about it," the gracious Tankian said. "It's a compliment, since it was a huge part of my life. I am proud of my accomplishments with the band, and the hiatus was timely and necessary. We get offers to play shows, and we confer. If it will happen, we will put it on the website."