Of Mice & Men Vocalist Austin Carlile Looks Back at 2012, Forward to 2013 (VIDEO EXCLUSIVE)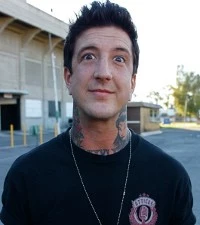 Of Mice & Men absolutely tore it up at the California Metalfest this past Saturday (Nov. 24).
The day featured many other bone crushing acts Killswitch Engage to Asking Alexandria, but the SoCal locals, named for a John Steinbeck classic novel, more than distinguished themselves with a raging set before a packed crowd.
Lead singer Austin Carlile has been busy this year, not just with Of Mice & Men's hectic touring schedule, but also Aspire & Create, a clothing and lifestyle brand he founded with Josh White.
Noisecreep caught up with Carlile right when Of Mice & Men arrived at California Metalfest to get his take on the year gone by and what we can all expect in 2013.
Watch Noisecreep's Chat with Austin Carlile
Of Mice & Men's 2011 sophomore album, The Flood, was recently reissued in a Deluxe Edition. Pick up it up digitally on iTunes and get your physical copy from Rise Records.
Watch 'The Depths' Lyric Video