Marilyn Manson, Avril Lavigne Dating? Shock Rocker Responds to Romance Rumors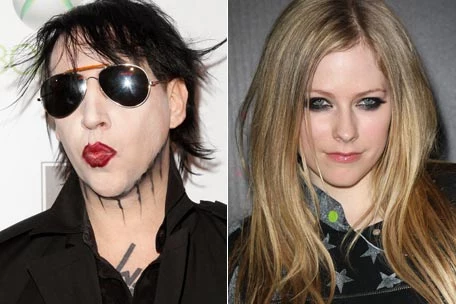 After denying reports that she had split with boyfriend Brody Jenner earlier this year, Avril Lavigne has been linked to none other than shock rocker Marilyn Manson! As rumors of a fling between the two continue to circulate, Manson has issued a hilarious response.
"Yesterday I read that I was dating Avril Lavigne," the 43-year-old singer told Entertainmentwise.com. "And I was like 'F–k, I wouldn't do that, she's Canadian' No offense to Canada," the Ohio native said.
"I know her, I accidentally shaved her head … but, you never know where these stories come from," the rocker continued. Wait, was he the hairdresser behind the 27-year-old's new half-buzzed 'do?
So maybe there's no real romance brewing between the pair, but was there ever a hookup? "Sometimes they have some sort of valid truth to them," Manson said of the gossip. "Did I f–k Avril Lavigne? Who knows … I can't remember. Chances are, no. Sorry, Avril!"
"Rumors, stories … I'm used to them," he continued. "There's a different story every day. I'm amused by them, I find the creativity of them amusing. Sometimes I think they should be more creative, I'd like to read something unusual."
Check Out Our 'The Former Lovers of Marilyn Manson' Gallery
%VIRTUAL-MultiGallery-154472|155639|153080%
Watch Marilyn Manson's "mOBSCENE" Video

if(typeof AOLVP_cfg==='undefined')AOLVP_cfg=[];AOLVP_cfg.push({id:'AOLVP_us_15471026001′,'codever':0.1,'autoload':false,'autoplay':false,'playerid':'61371447001′,'videoid':'15471026001′,'publisherid':1612833736,'playertype':'pageload','width':476,'height':357,'videotitle':'Test','bgcolor':"});