Lemmy's Secret to Staying Fit on Tour: Potatoes, Green Beans, Whiskey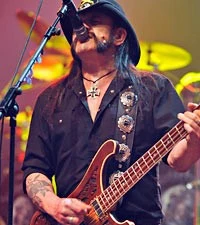 Motörhead's Lemmy Kilmister is known for his hard drinking and fast living metal lifestyle; he wrote the book on abusing your body all in the name of rock.
The singer/bassist told The Guardian newspaper that he is in good health and remains so by avoiding vegetables on tour. We know, we know — that seems counter-intuitive, but Lem claimed he noshes on "potatoes and green beans," which are healthy options. But he also declared, "I don't care if you eat 200 artichokes, you still won't last through a tour."
If anyone knows how to survive a tour, it's Kilmister, so Noisecreep suggests listening to what he says. Lem also said that he doesn't consume onions while touring and asks to be provided with cookies, cakes, meat, cheese, smokes and whiskey on his tour rider.
Ah, the breakfast of champions!
Watch Motörhead's 'I'm so Bad (I Don't Care)' Video
if(typeof AOLVP_cfg==='undefined')AOLVP_cfg=[];AOLVP_cfg.push({id:'AOLVP_74856059001′,'codever':0.1,'autoload':false,'autoplay':false,'displaymnads':true,'playerid':'89761511001′,'videoid':'74856059001′,'width':456,'height':357,'playertype':'inline','stillurl':'dynamic','videolink':'#','videotitle':'dynamic','videodesc':"});