Avenged Sevenfold's M. Shadows Pays Tribute to His Late Drummer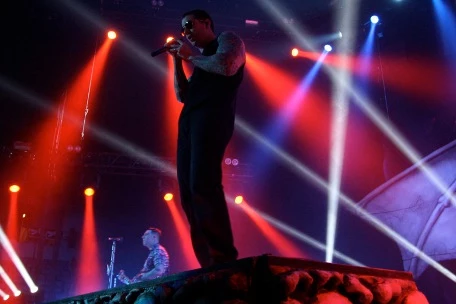 As Noisecreep reported last month, Avenged Sevenfold offered to play a free show in at the HP Pavilion in San Jose, Calif. this past Friday, Dec. 16. The band wrapped up their headlining Buried Alive Tour with Hollywood Undead, Asking Alexandria and Black Veil Brides, but before doing so, the Orange County metallers wanted to make up a show they missed on October's leg of the highly successful UPROAR Tour. The show was free to all fans, regardless if they were or weren't at the aforementioned UPROAR show.
Noisecreep caught up with Avenged Sevenfold lead singer M. Shadows for a few thoughts on the eve of this rare, free gig.
Whose idea was it to have the free show?
It was the entire band's idea. We know how hard it is for people to plan for a show and save up their money for the event. There is gas and hotel rooms and all sorts of other costs that we could not give back to the fans so a simple refund doesn't cut it. I was unable to perform so we had to make it up somehow. We hope everyone has a great time because its shaping up to be a hell of a time.
Does the band expect this show to be extra wild given that it is a freebie and fans will no doubt be extra pumped up?
Yes, people love free shit and I think there has been a lot of build up aggression because of the canceled date. I assume this show will be chaos.
Can you remember the last time Avenged Sevenfold played a free show?
Yeah, we played a small bar in Southern California called the Slidebar for the release of our self titled album. this is different. there were 200 people allowed in that show…. there will be 12,000 tomorrow.
You've been on the road a lot this year. Is the band looking forward to slight touring break for the holidays?
Yes, we are taking some much needed rest to recharge the batteries.
At the show however, Shadows planned a surprise for the fans.
Watch Avenged Sevenfold 'So Far Away (Live on Dec. 16)' Video
According to longtime A7X fan Brittni Bass, a 21-year-ol Texan who made the trip by bus to catch the show, it was well worth the trek. Bass, a waitress who studying in college to become an EMT, had seen the band seven times before – but this night was special. "It was breathtaking," she told Noisecreep. "The band was full throttle the entire night. I know they haven't done a free show in a long time so this was really historic. But then when they announced that Joe and Barbara Sullivan, Jimmy's parents were there, the place went crazy. M. Shadows introduced them, then they dedicated 'So Far Away' to the Sullivans. I'll never forget that. Everyone held up their cellphones and the arena filled with light for Jimmy."
The two-year anniversary of the loss of Jimmy 'The Rev' Sullivan is later this month, and as Joe Sullivan told Noisecreep, being at the show meant a lot to he and his wife, Barbara. "It was really special to us. Before we even entered the arena, fans started coming over to us, telling us both how much Jimmy meant to them. Then when Matt introduced us, we were sitting over by the soundboard, even more fans came over to speak to us, tell us stories about Jimmy – it means the world to us that our son touched so many lives."
Sullivan added that it was also the first time they'd seen Arin IIejay, Avenged Sevenfold's drummer. "We met him afterwards and spent some nice time with the band," Sullivan said. "It was an incredibly meaningful night for my wife and I."